Drupal To Amplify Non-profit Organizations
Like most organizations today, Non-profit organizations operate in a complex, fast-moving digital environment and depend on the online technology to define and deliver their mission and raise donations through the digital experience which is essential to its operations.
Already facing social hostility, NGOs and Non-profit organizations have to encounter monetary and budget issues to sustain themselves when it comes to web presence. As the best alternative to proprietary CMSs, Drupal gives NPOs and NGOs the value of their efforts.  
Drupal Is Helping Non-Profit Organizations and NGOs
Before deciding on the right CMS system, you need to decide on the goals you want to achieve with it. Chalking out the needs is not alone, you also need to consider what benefits your audience will receive if they participate in your online community. Keeping these in mind, this is how Drupal is transforming NGOs.
Cost Effective
For non-profit organizations, the cost is a major deciding factor. Here, it covers both the short and long-term cost of owning the website.

Short- term cost involves the cost of developing and designing the website and long-term will include the maintenance cost. While development cost will more or less be same for different CMS, it is the maintenance cost which varies dramatically.

The long-term cost is relatively higher as it involves protecting the website from potential threats and risks. Drupal's power lies in the fact that it is a non-licensed, open source website platform. Being open source implies that NGOs don't have to pay monthly or yearly subscription fees if they deploy Drupal, as would be the case with any proprietary CMS.

It is effective for NGOs because it provides broad community support which is often the best solution when looking from an overall budget standpoint – more options for security, support, add-ons and an accessible knowledge base.
Processing donations securely and easily
One of the major lifelines of NGOs, funds, and donations, are central to stay in business. More the donations better the ROI reporting.

Your Drupal website will act both as a resource and media center as well as carry out the donations safely and securely.

A perfect fit for charity donations, churches or any fundraising website, you can customize Drupal and it's very easy to fit your needs. Modules like Payment, Recurly, Donate and Paypal Donations successfully integrate with Drupal's API to give a secure environment for donation process.

Another module -- Commerce Charity Clear Hosted Form -- allows easy integration for the Drupal Commerce payment and checkout system. Providing an API and user interface for storing and reusing credit card data on subsequent orders within Drupal Commerce, this module does not retain full card numbers locally, instead stores the remote ID of the full card data from the payment gateway which is further used to validate and process your credit card transactions. This ensures that any sensitive information never goes vulnerable.

To keep the donations transparent, NGOs can also install Donations Thermometer which creates a block displaying a thermometer style graph showing your current donations in relation to your target.

Another major add-on is that these modules allow an end user to specify the amount to donate before adding it to the cart. Once added to the cart, the visitors can still revise their donation amount.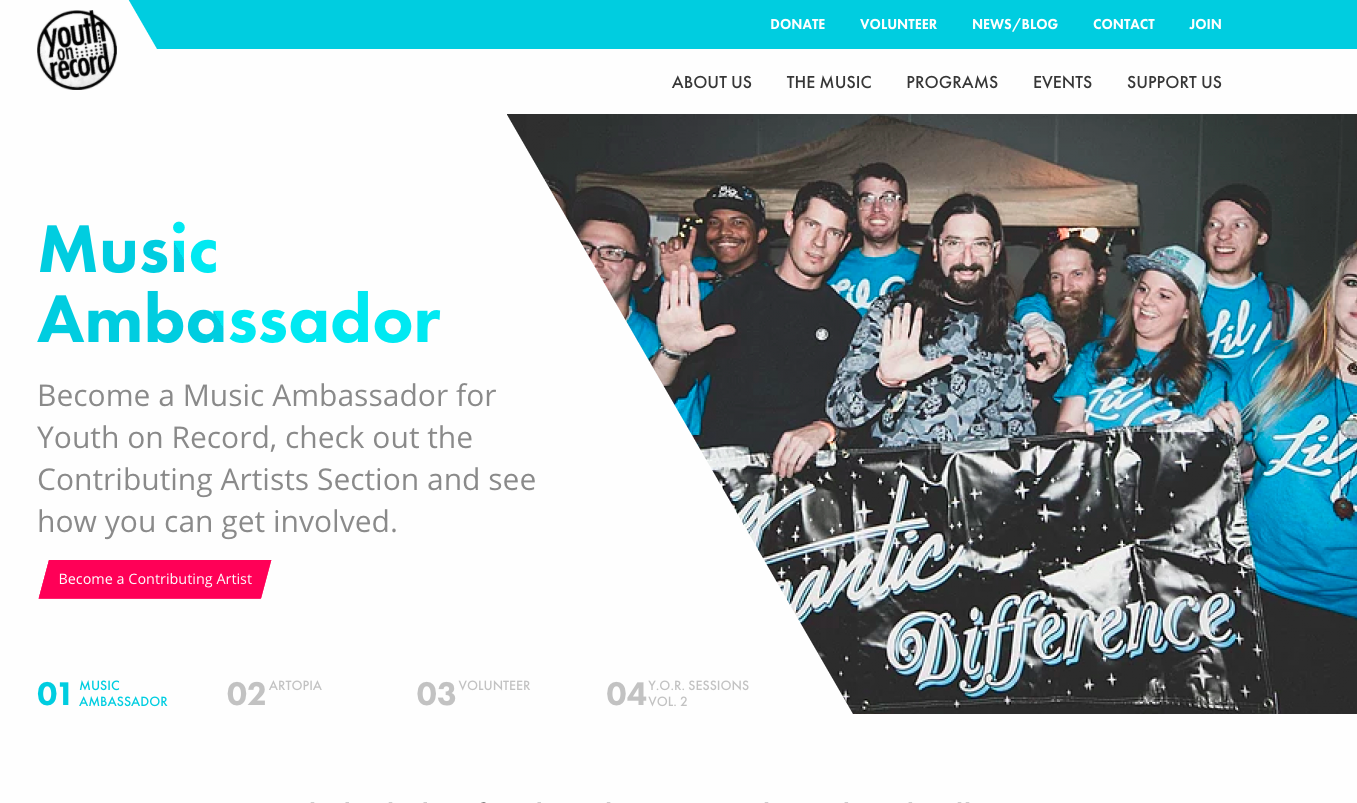 Empowering underprivileged high school students to succeed in their future through musical programs. Youth on Record is a successful example of how Drupal has helped emphasis on fundraising and partnership programs with a new brand identity and the ability to attract more followers, partner artists, and event goers.
Easy content management
Everywhere people want a compelling cross-device experience, just like they find on other interactive websites like Amazon or Facebook. But more than that your CMS should be friendly to the one who is using it - The Content Editor.

Your ideal CMS should be easy for your team to update and maintain on a day-to-day basis with ease-of-use and requiring minimal training.  

Ensuring that the needs of every organization match the features offered, Drupal community has ensured that the editing remains as smooth and separated from the technical aspect as much as possible.

Page manager is a great tool for making content creation and editing easy to create specialized landing pages which is the need of Non-profit organizations, and when combined with the Layout Plugin and Panels, it provides the ability to use different layouts when viewing different page types.

One can also build specialized landing pages with their own layouts. All of the different landing pages can be handled by a Page Manager, using different variants for each page type.

Another user-friendly feature for editing is the CKEditor which is a WYSIWYG rich editor. You can identify different types of content such as text, images, comments, file attachments, and other information on your website for easy content identification, integration, and management.

It is also easy to define the sub-content types for easy categorization.

To avoid any confusion and chaos, it has easy role management and user permissions. This is especially helpful for entertainment websites as they have multiple editors and require maintaining a detailed history of changes.

As a content manager, it is easier to translate the core content into other languages without the need to worry about grammar. You can now cover large geography and help propagate your mission across the world.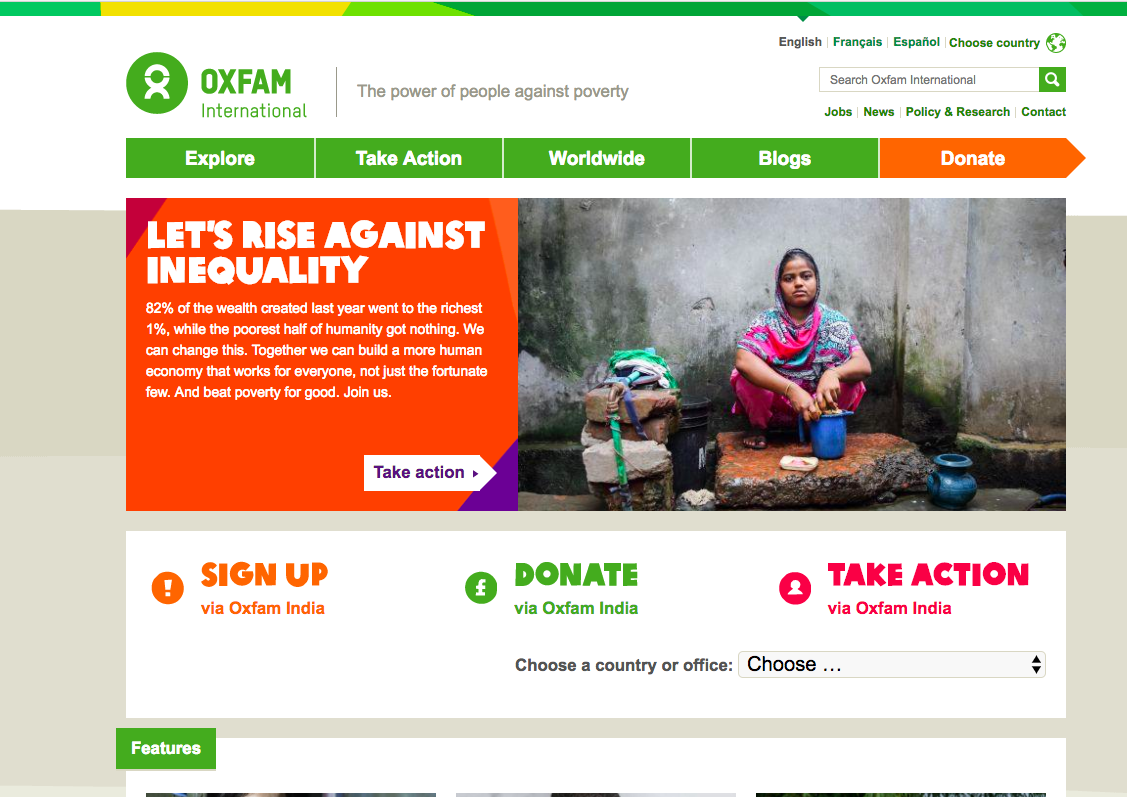 Oxfam is an international confederation of 20 NGOs working with partners in over 90 countries to end the injustices which cause poverty.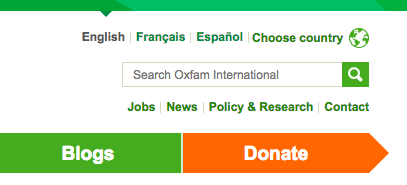 To keep the information search friendly, it has semantic in its core which helps in structuring the data by defining its elements. This allows the content to be reused effectively by both search engines as well as the end users.

It authorizes the administrators to create and edit content in place. Content management and editing are easy as the users can browse, select, and edit the content directly, authorizing them to view their content, from scratch to publication.
Integrated involvement
The smoother the experience you demand for your user, the more complex the process and capabilities required. The more the need for third-party applications in your Drupal website.

Unlike many for-profit organizations, finding the right set of support and sponsors is a bit tough. But things can be simplified with the application of some easy and healthy practices to ensure the right supporter lands at the right place without wandering the world.
GreenPeace GreenWire - USA https://greenwire.greenpeace.org/usa/en/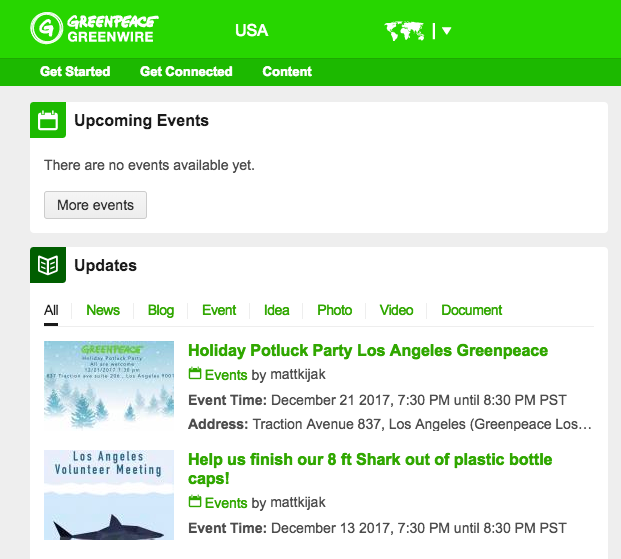 Location Information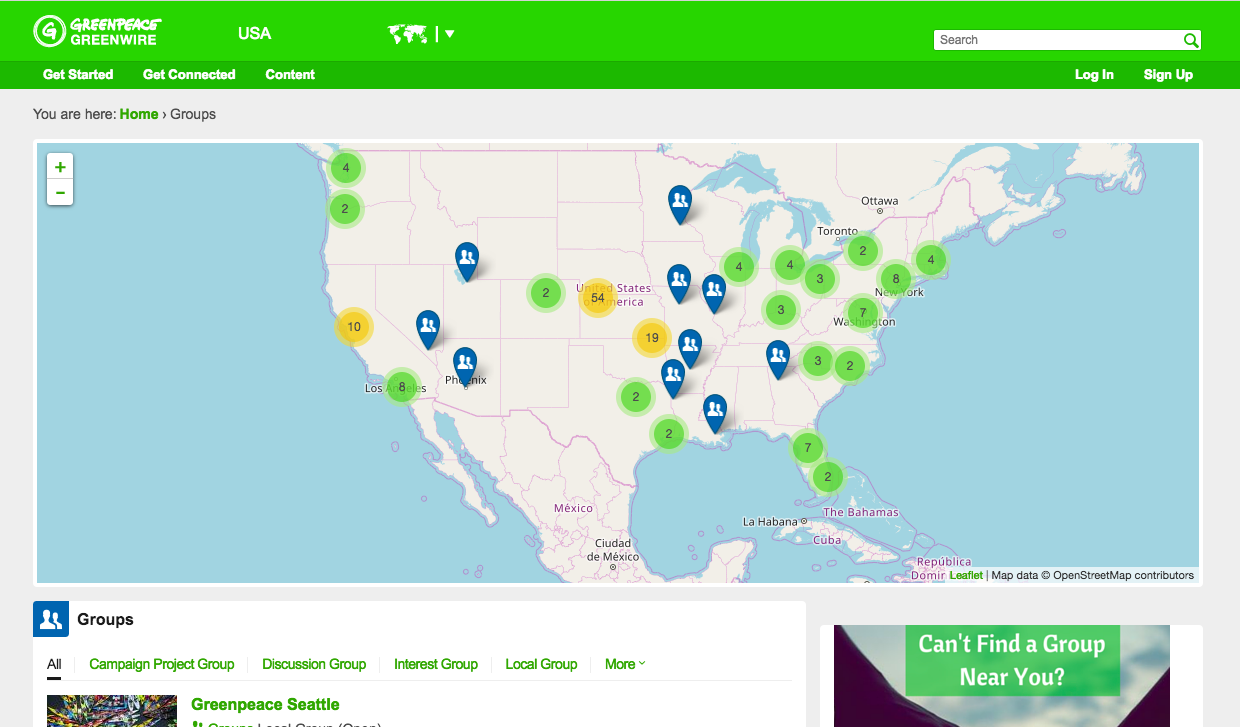 Such engaging features push users to explore more.
GreenPeace has simplified the search and locate functionality. The 'Find My Local Group' is part of the header that's available for every page.
The search results is an appealing and information-rich map. Such features can be created with the Geolocation  Field - a popular module to create geolocation views proximity search.
Events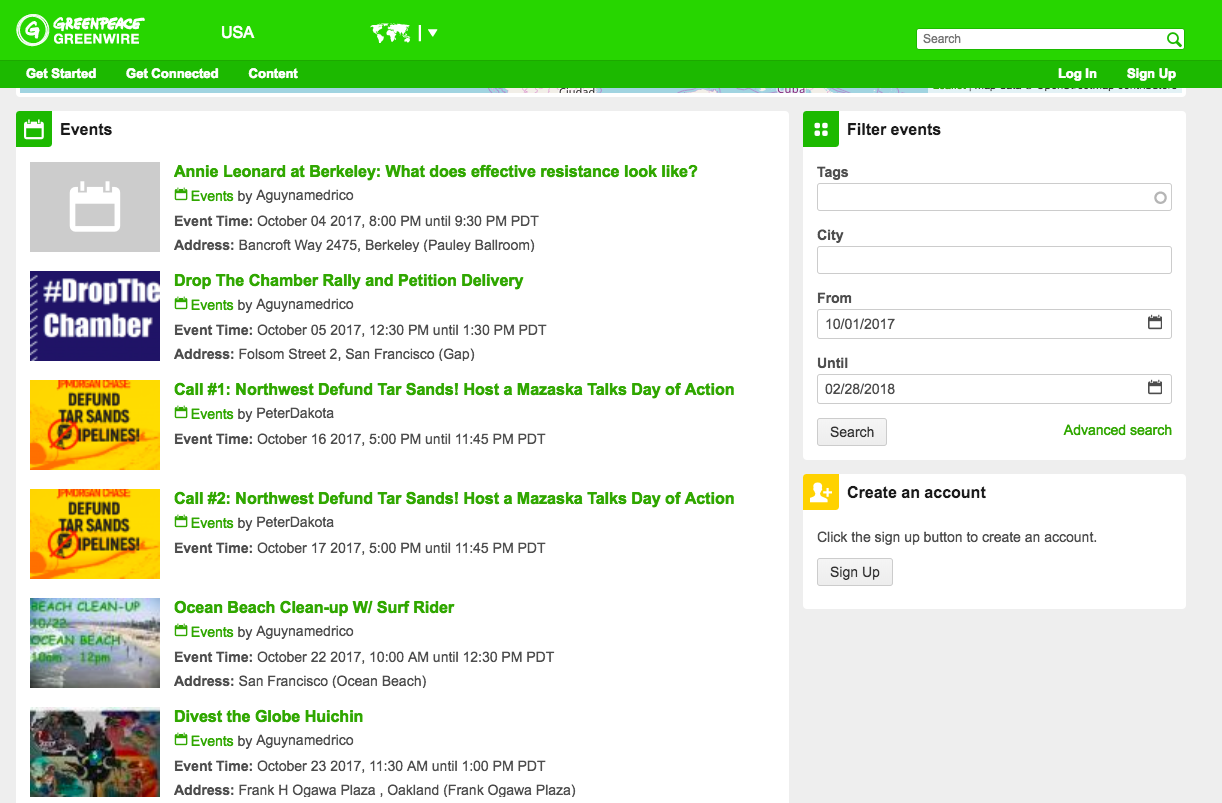 Adding and updating event particulars has never been so easy as in Drupal 8.
The search is simplified here and to find events, you only need to select the time period and results are presented to you in a very simple and uniform pattern. Drupal lets you quickly associate different events with the address via taxonomy or "entity reference" for quick accessibility.
Similar as the above section, news and blogs can be handled by the locals of their respective countries. And even so, every (local) site is neatly organized and maintained from every section irrespective of their country.
Take for example "/news/" URL's
https://greenwire.greenpeace.org/usa/en/blogs/raising-eco-conscious-toddlers-small-changes-big-rewards).
Easy to form URL capability comes out-of-the-box in Drupal 8.
And in the end, the GreenPeace GreenWire allows for easy communication with locals organization to get their volunteers plugged in as efficiently as possible.
SEO
Over the years, the needs of NPOs and enterprise-class businesses have come out as same. And due to a horde of content available on the internet, even NPOs have to align their content with best SEO practices to improve their content visibility.

And this is what compelled RainForest Alliance to shift to Drupal.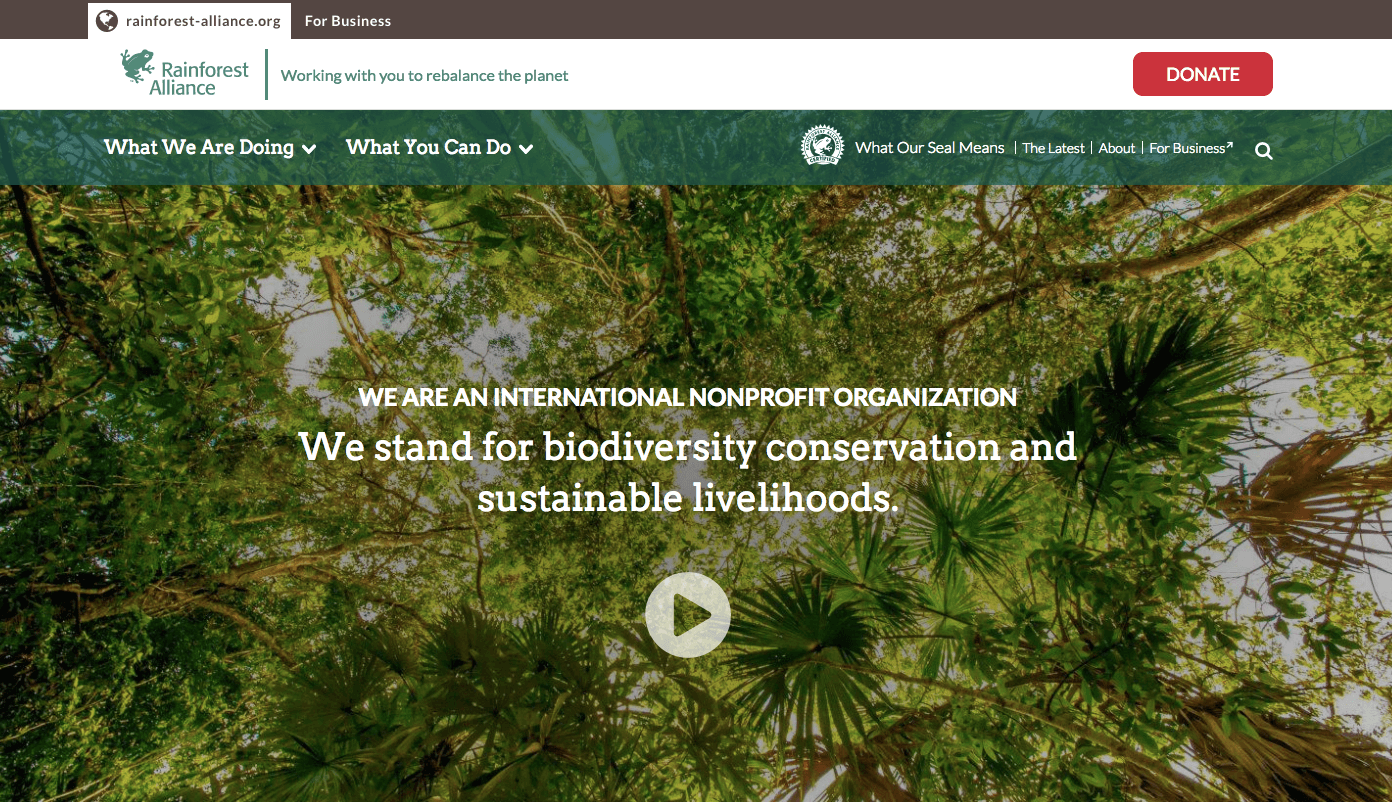 "Over the years, RA has cultivated a repository of structured content to support their cause.  While the content is primarily displayed as long-form text, there is a wide variety of metadata and assets associated with each piece of content.  

One of the primary goals of the new site was to enable discovery of new content on the site through automatic selection of related content driven by the metadata of the content the user was viewing." (Source: Drupal.com)
Drupal's focus on structured data is a perfect fit for NPOs which seek to present their content in the most search-friendly fashion. Two features from Drupal, which are not to be missed are - 1. Semantic in Drupal's core and 2. Deep integrations with Apache Solr

Drupal is a perfect fit for the needs of NPOs while also meeting the organization's long-term goals.
Conclusion
NGOs need to adapt to regular changes in technology, and providing the necessary algorithm, with online payment methods, and social media integration Drupal helps you generate the necessary funds.
Keeping care of your needs, we, at OpenSense Labs, will ensure that your site is built and maintained well. Our approach is to understand your organization throughout and build your website with all the care. Connect with us at [email protected].
Akshita is a Senior Content & Marketing Associate at OpenSense Labs. A Hubspot certified Content Marketer, she likes to devour content related to SEO, open source technologies, and politics besides Drupal, of course. As a hobby, she trains young girls with TaeKwondo.

She is also a big Game of Thrones fan and quotes Tyrion atleast 5 times a day.