Working on big and complex projects often require organizations the need to build an intranet system which can be used as a focal point for internal communication as well as between the client and the company, with a strong architecture and easier management required. 
Popular as a CMS, Drupal is capable of document and asset management as well. Already successful as a community platform, it can also be used as an intranet to facilitate the smooth working of a project. 
In this blog, I have outlined why and how Drupal is the best fit for an intranet and if it can actually fix the problems faced due to poor intranets. 
Ugly intranets are everywhere, regardless of software or solution. 
The foremost question that you need to ask is "Do my employer hate the intranet we use? If so, then why?" Answering this would solve your major problems. 
Drupal For Intranet
Even if launching your own intranet is a last minute idea, Drupal still has things sorted for you. Distributions are the best option in the given case.
Along with a pre-configured installation which has default Intranet features such as groups, activity streams, commenting, and a customizable user interface, Drupal distributions like Open Atrium, Open Social, and Drupal Commons are a great way to quickly install one intranet for the organization.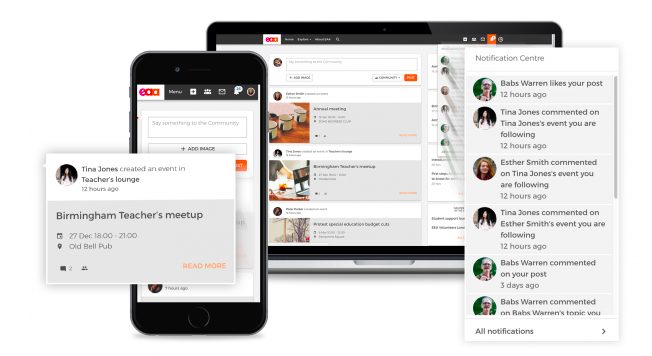 Moreover, because Drupal's architecture is based on the concept of "overrides," these Distributions can be further enhanced with the custom backend or frontend features without compromising the default features they're packaged with. With this, it would make sense to start building an Intranet application with a Distribution.
Providing features like a group, and case management out-of-the-box, Open Atrium is a popular choice for building intranet systems with Drupal. An intranet is built for operational transparency, to monitor tasks which are in the pipeline and their respective progress levels. In Drupal, you can monitor projects, milestones, and deliverables on the go and have full control over the projects and teams.
Intranet systems are used to deliver collaboration tools in order to facilitate engagement, expedite CRM tools, and ease project management, all to improve productivity. Since there would be a considerable size of people using the intranet (within an organization), there arises a need for easier and customizable workflow. 
In Drupal, one can easily create the "permission settings" by creating various user roles in order to avoid any chaos and confusion. Presenting an enhanced user role and management criteria, the feature can be improved by adding single sign-on capability using a couple of modules. Creating roles is as easy as writing any blog.  
Drupal facilitates information, documentation with easy administration. Drupal is fully fit for document and resource administration.
In the absence of an intranet system, everything is a nightmare.
It is important to keep track of the user activities when the number of people involved in the project is more. Drupal's out-of-the-box content versioning feature automatically saves new versions of content that can be easily rolled back if needed. 
Modules like Diff module provide more granular view and better grip of any text and/or field values that change from one version of content to the next. 
Media module solves the management of external media asset libraries and for a defined publishing workflow a smooth access control is required. The Workbench suite can be utilized for the same purpose.
Flexible Enough To Integrate
Because the main purpose of an intranet is to share the information, processes, and resources among employees and clients, the intranet system will require features according to the needs of the project. Features that might be missing in the default. What do you do?
As mentioned before, Drupal facilitates collaboration and works on the concept "overrides," where a feature can be further enhanced with customization. 
Integration is an easier step than coding from the scratch. Drupal provides the flexibility to integrate with various modules, custom codes, established software, and tools like Account management system, SharePoint, Google Docs, SAP, and Sugar CRM. Since Open Atrium comes with six features - a blog, a wiki, a calendar, a to-do list, a shoutbox, and a dashboard to manage it all, integration can best save the time. Integration with third-party tools is possible only because of Drupal's modular and scalable architecture. 
With the concept of API first (popular with Drupal 8), the possibilities to use Drupal to expose content via JSON and XML are almost limitless. Full and progressive decoupling not only allows applications to be integrated well when it comes to third-party integrations Drupal also allows easy theming and customization.
Above all, Drupal is a free software. New features, updates, or upgrades will not send you to the "pricing tier". No recurring licensing fee is asked since the open source innovations keep the community working together to create, improve, and extend functionality. With this, you have the control of who's working on your project.
Out-of-the-box user management, better collaboration features, and easier content management makes Drupal a natural fit for use as an Intranet. Other than this, it has modules and distributions offering the organization an ability to create an experience which is rich in social and visual engagement.
It can also effortlessly integrates with third-party tools wherever the need arises. By far, Drupal is apt to build an Intranet customized to meet unique user and management needs.
Connect with us at [email protected] to give your organization right tools to facilitate project management, with remote collaboration and ease of communication.
Akshita is a Senior Content & Marketing Associate at OpenSense Labs. A Hubspot certified Content Marketer, she likes to devour content related to SEO, open source technologies, and politics besides Drupal, of course. As a hobby, she trains young girls with TaeKwondo.

She is also a big Game of Thrones fan and quotes Tyrion atleast 5 times a day.