How To Devise Your Content Strategy With Drupal
Content is the fulcrum of any enterprise that gives them the tensile strength to build a robust online presence. Having the right approach towards delivering astounding content involves plenty of effectual content strategies in place. Drupal 8 is your one-stop destination for building an efficacious content strategy with its out-of-the-box capabilities.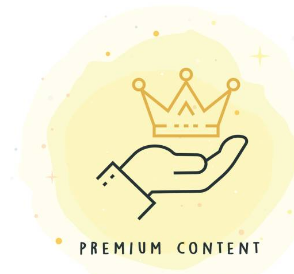 According to a research by LinkedIn, 72 percent of the digital marketers have a content strategy in place of which 30 percent are the documented and the rest non-documented.
Before we look at the ways of forming a blueprint for content distribution, let's see what are the various models of disseminating content.
Content dissemination
Every organisation has a different need for content distribution plan and requires different kind of content dissemination. An organisation may have a primary global site that contains the most of the content. This might have to be distributed to different secondary sites if it is a large organisation with a global presence. Even some external sites might be receiving the content from the primary site. It is also possible that these secondary sites would be sharing the content with each other through a peer-to-peer network.
Primarily, organisations adopt either of the top content distribution models namely, centralized and decentralized models.
Centralization
This involves a primary site that acts as the main activity hub when it comes to content production. Large enterprises would have the dire need of such a website which would pass on the content to its global sites or product sites. Thus, this helps in maintaining the brand consistency during cross-channel marketing campaigns.

It is possible that one of the secondary sites may have a relevant information on the subject. Primary site may need to import important information from its sub-sites so that it can then distribute it to the other secondary sites. In any case, in the centralized model of content dissemination, content is propagated through a primary site to the global sites.
For instance, the website of United Nations is powered by Drupal. It has a global presence with member nations from across the globe. To meet their needs, it has dedicated country sites that comprises of unique digital marketing teams. So, if a new agreement has been signed on by influential nations on combating climate change, a digital marketer can push the information out to the secondary sites via a primary site thereby publishing the content to both primary site and its secondary sites spread across the nations.
Another very good example is the Planet Drupal, which displays the aggregated list of feeds about Drupal posted around the globe. Drupal.org, Groups.Drupal.org and several other sub-sites may find several absorbing contents fit into its topical sections. Planet Drupal provides the platform to share interesting, relevant and highly useful Drupal-related informative blogs.
Decentralization
It is not always the case where a primary site would be distributing content to additional sites. What if there is no such main site to propagate the information to the secondary sites? Independently run sites can share content with each other through a peer-to-peer model of content dissemination.

For instance, an organisation from media and publishing industry can have several regional sites. So, in a country like India, with a diverse and multi-linguistic culture, a digital media might have independently run regional sites. If a regional site in Chennai, a metropolitan city in India, is running a cover story of the citywide celebration of a festival, their national television channel can reuse that coverage of festival to be posted on its site.
It is doubly important to choose the right model of content distribution for your organisation's needs and its success. It is also significant to have the best content strategies in place in addition to the continuous flow of wonderful content.
Constructing effectual content strategies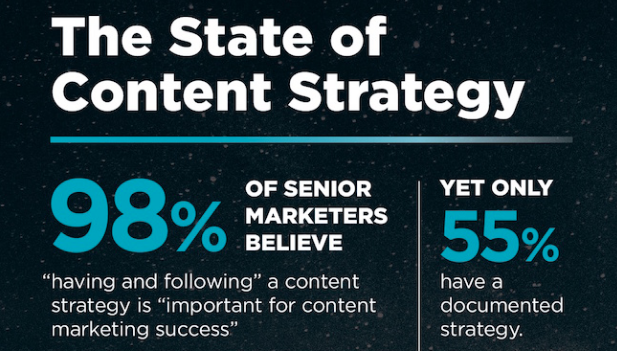 A question on Quora reads, "How do I develop content strategy?". It involves identification of roles and workflow to find out who does what, formulation of standard guidelines to be followed by content producers, repurposing available content on your site, and using the best tools and technology available.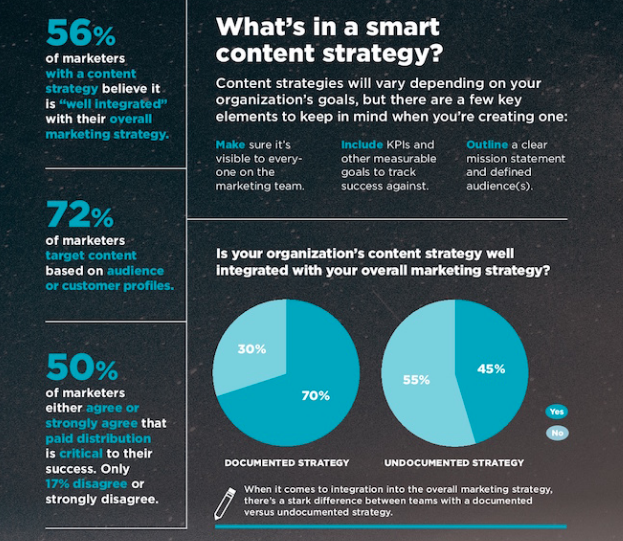 Hammer out the finer details of your objectives
Before you commence with the proceedings involving content production, you need to be smart and have the right set of goals and plans for the creation of superabundance of content.
Being succinct: Make sure that what you plan is precise, specific and succinct.
Relevancy: Your objectives should be relevant to your business. So, if you are a Drupal agency, in addition to Drupal related content, you can explore many other technologies that can work together with Drupal.
Being realistic: Setting goals that are attainable would serve you the purpose better. If your Drupal agency has been churning out 30 blogs per month, setting 100 blogs per month would be too drastic.
Trackable: Your objectives should be measurable. So, if you want to boost your social media presence, formulate a goal that focuses on increasing it by X percentage so that you can measure your achievement rate.
Time constraints: You should have a goal that is time-bound. You should be able to adhere to the timeline set for the particular task.
Define your target audience
A proper persona research would help immensely to build content that is ideal for your users. For the creation of optimal content, you should know who your customers and prospects are, what are their interests and concerns, and what sort of content do they want to consume.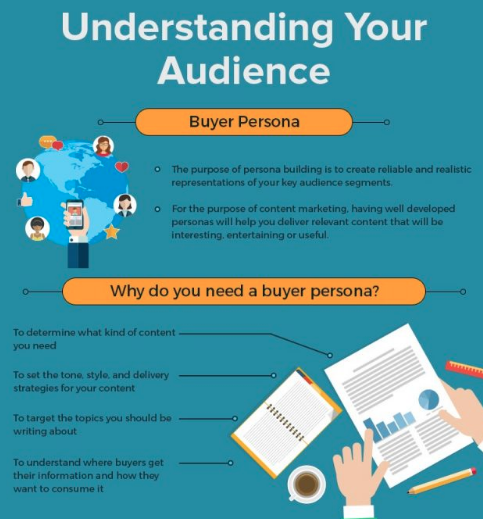 Start off by developing the persona research for existing user base. Pen down user profiles like their name, job role, industry information and demographic details. Once you do so, try to gauge what information are they searching for, their needs and challenges.
Assess your content
Performing a content audit would help you in re-organising your existing content. Always review your existing content to see what can be repurposed or reused.
Instead of spending a lot of your time in creating or recreating something, content assessment can help in identifying gaps in the existing ones.
Choose the right Content Management System
Selecting the best CMS to power your website can pay dividends. Drupal 8 should be your goto CMS when it comes to choosing the best content-friendly framework.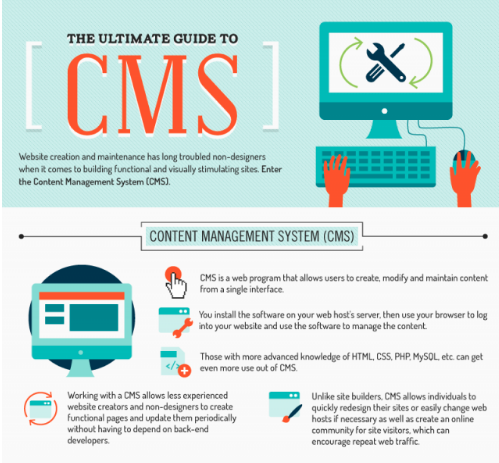 Its amazing themes offer the best UX to the content editors. A plethora of custom and contributed modules assist in customization of your site as per your needs and help hugely in content publication. It can of great use for content analytics. For instance, Real-time SEO for Drupal recommends automatic alterations that can boost the SEO of the content that is going to be published.
Prepare a super list of topic buckets
Brainstorming on content ideas can be effectively done through tools like Buzzsumo, Feedly, Semrush and many more. Once done, start preparing a topic cluster to construct a super list of relevant content based on the parameters like search volume and long tail keywords.
Rummage through the content types
A plenitude of content types can be derived, after the super list has been prepared, to work upon. Determining the sort of content you should be using would depend on different stages of buying cycle of the prospects.
Brand awareness: The prospects would rummage through your products and services, understand your brand value and try to gauge whether they have the need for your product.
Identification of problem: Prospect might figure out the problems and start researching about the possible solutions thereby coming across your products.
Comparing available options: Prospect can compile the list of vendors and validates these options.
Decision-making: After the comparison of different options, the prospect can start deciding which one to choose from.
Once the different stages of buying cycle are figured out, it is time for mapping what sort of content type would suit best for each of the stages. An illustration below shows the types of content that can be identified with different stages.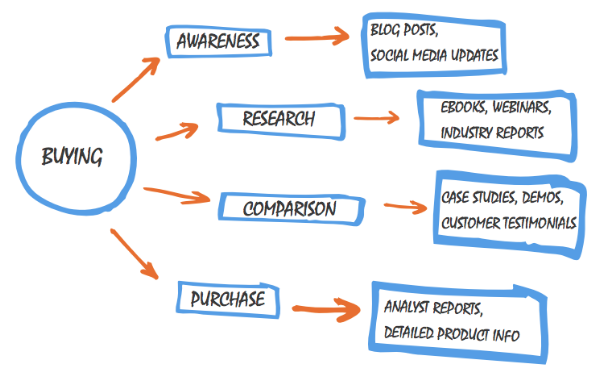 Drupal can be of great use to build these content formats. Let's see some of them.
Posting blogs: Posting blogs on your website on a regular basis is of utmost importance. Blog posts should provide valuable information to your readers ranging from long form to short form blog types. Drupal provides options for posting different types of content on your website. Whether it is business-centric article or an interview of a CEO from a renowned company, Drupal has the provision for posting different sorts of content.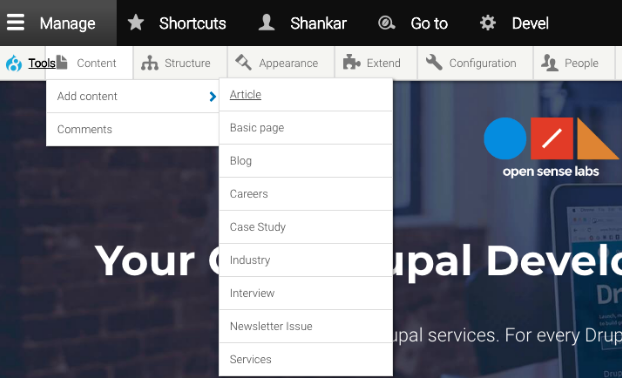 Developing infographics: Another great way of producing content is the infographics that provide graphical information to convey an information clearly and quickly. Drupal offers a lot of modules that can help in embedding images with infographics in your blog posts. For instance, colorbox, a Drupal module, can help in displaying an image by overlaying it above the current page.

Embedding videos:  A research by Hubspot, as can be seen in the stats below, shows that video is increasingly becoming the most influential and preferred medium of content. Drupal has plenty of modules that can be used for producing videos and embedding them in the blog posts. For instance, CKeditor Media embed module can help in embedding videos, images, tweets that are hosted by other services.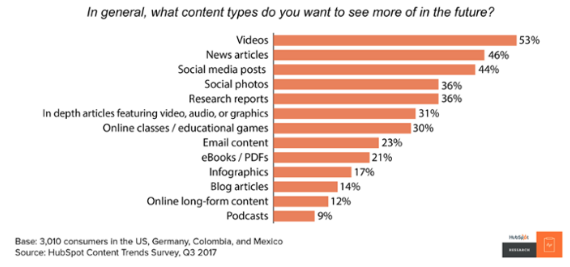 Creating Podcasts: Edison research, in one of their studies, reports that 57 million people listen to podcasts every month.  If you have interesting presentations, want to share the latest information on your products and services, or have some amazing conversation with industry leaders, podcasts are the way to go. Drupal 8 module, RSS SimplePodcast, lets you create simple podcast RSS.
Content Governance
Governing the publishing of content is one of the foremost things that content editors need to take care. Having the provision for publishing the content should be hassle-free. You should not only be able to publish your blogs posts but also be able to schedule it as per your organisation's workflow and your convenience. Scheduler, Drupal 8 module, helps in publishing or unpublishing a content at a particular date and time.
Content editors should also have to administer the publishing of content other than their own sites. Creating original content for an online content portal like Medium would be really helpful in spreading the content to bigger and relevant audience. Also, publishing the content on social media sites like Twitter, LinkedIn etc. can help in targeting more eyeballs.
Conquering challenges
Strategizing the content flow can be rewarding but it does have its fair share of hurdles.
Construction of right content for the audience can be hassling.
Churning out the right amount of content can be tricky.
Looking up for a specific content from the wealth of content on website can be strenuous.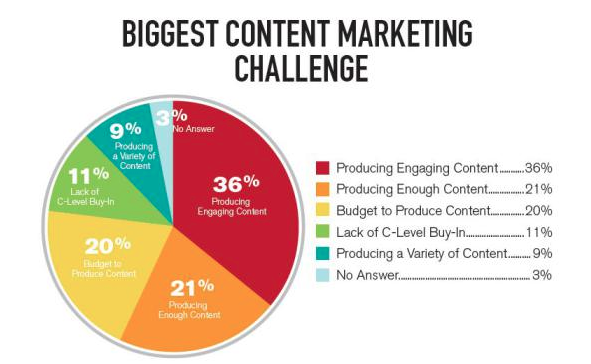 Drupal 8: Ultimate choice for content strategy
It is of paramount importance that you choose the right CMS for your business when it comes to producing a great content efficaciously. Drupal offers the belligerent support needed for content-heavy websites.
APIs as a core feature
Business enterprises can choose Drupal as the central content repository getting the best out of its rich content structuring, content creation, and administration provisions. Drupal provides the best way to curate, build, and publish content through APIs as its core feature. It makes multi-channel content distribution much easier.
Web personalization
Drupal has the means for enabling web personalization that helps in understanding the interests of the users, tailoring the website to accommodate their profile and, offer them the best content that is relevant to them.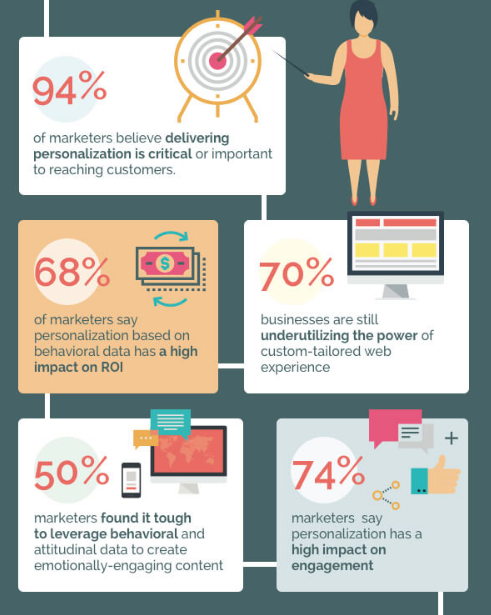 Acquia Lift Connector, Drupal module, helps in the unification of content and the insight collected from several sources about the customers for delivering in-context and personalized experiences across multiple platforms.
Intelligent content tool module, supported by Opensense Labs, helps in auto-tagging, text summarization and finding content duplication.
Multilingual capabilities
Drupal 8 has out-of-the-box multilingual capabilities that help in building websites in more than 90 languages. With in-built modules for language handling, interface translation, configuration management, content translation, Drupal 8 can of great help in building multilingual sites easily. This helps in tailoring user experiences by translating the content in their own language.
Mobile-first approach
Drupal 8 is responsive out-of-the-box. That means the mobile-first approach is a core part of the Drupal framework. It comes with a plethora of fully responsive themes that enables it to work efficiently across platforms. Your content would look exactly the way you want on computers, tablets, and smartphones.
Content strategy project for Drupal.org
Drupal.org Content Working Group met for a two-day workshop in 2014 to get the team from Forum One, content strategists and user experience designers, to build a content strategy for the official Drupal website.
Why is content strategy formulation needed?
Drupal.org is the hub of Drupal and its community. It is the main source of code, Drupal-related information and collaboration among the community members. From project managers to web developers, everyone contributes towards its development and betterment. Organisations from a wide array of industries like governments, nonprofits, and Fortune 500 companies have been using Drupal for their business needs.
What were the objectives of this initiative?
One of the first things that they wanted to improve was the quality and the relevancy of the content available on the Drupal.org website. They also planned to reframe it around all the user roles and proficiencies to address all the audiences. Moreover, their objective was to develop a content governance for the site and improve user engagement within the Drupal community.
What were the steps taken to improve content strategy?
Content Working Group and Documentation Working Group of Drupal identified some gaps and put forth some fixes as part of their content strategy for the site.
With over a dozen content types, more than a million pieces of content, much more taxonomy terms and views that represent displays of data, thousands of forum topics, projects (including modules, themes and distributions) and issues associated with these projects, Drupal.org had a lot of content.
They took steps to break down these content types into more meaningful content types. For instance, a book page content type can be anything ranging from documentation to resource guides. Thus, this had to be broken down into relevant content types so that the new users can find information more easily.
Moreover, a dearth of marketing materials was noticed. They pledged to create content to promote Drupal 8 among the likes of CIOs, CTOs, managers, and business decision-makers.
A content audit was needed to be performed regularly. They zeroed in on what sort of content could be archived, what can be removed, and what can be updated. Content mapping was done as well to figure what content they have on the site and what sort of content would they need that would assist in building better information architecture for the new users.
They analysed and tested the user experience for creating and maintaining the content on the site.
Tools and technology for content strategy
Understanding the significance of formulating a master plan for producing content on your website can have dramatic metamorphosis for your business. Now, that we have understood the importance, we need to look for the right technology stack that can help out attain our goals.
Integration of CMS and DAM
Content Management System (CMS) like Drupal is primarily designed to build, publish and handle the content on your website. A Digital Asset Management (DAM), in contrast, is highly useful for governing the digital rights and the storage of media content like photos and videos. Integrating DAM capabilities into the CMS can be a big boost for your content endeavours. For instance, integration of Drupal with Acquia DAM, a cloud-based DAM, cam improve brand consistency with the usage of rich media content.
Project management
Usage of project management tools like JIRA, Workbench or InMotionNow can help in imbibing an agile approach to your content workflow, incorporate editorial calendar for effective content management and also help in the proper planning of content production.
Content analysis
Integrating business intelligence and analytics tools like Tableau and Google Analytics would help in compiling reports on your content marketing efforts and assist in the assessment and measurement of your website content.
Future of content strategy
With an enormous presence of disrupting technologies promising to streamline the way existing technologies manage our workflow, curating and distributing content on your website can benefit from some of the future technological advancements.
Virtual reality
A Statista report states that by the year of 2022, the market size of virtual reality would amount to 209.2 billion US dollars. Virtual reality can be a great option to produce immersive content for your content marketing campaigns. For instance, IKEA introduced their customers a way of virtually exploring the living room rather than just looking at their products at the store.
A fictional site of Massachusetts State University was built on Drupal 8 that would help students to take a virtual tour of the University from their website.
Artificial intelligence
To make your content production more predictive, personalised and relevant, AI can be of great help. For instance, Amazon Rekognition helps in integrating photo and video analysis in your application and lets you identify which influencers are generating more user engagement vis-à-vis various product categories.
Native advertising
You might have noticed some form of paid advertisement while reading e-newspaper where the content seems similar to the native content of the platform. Native advertising can play a big role in the content marketing tactics in the future. Almost 60 percent of US digital display ad spending would be done through native advertising.
Live streaming
Another form of content dissemination is the live streaming which will grow immensely in the coming years. It is more like a real-life conversation where audience can pose questions and get responses in real-time thereby increasing user engagement. Viewers spend 8 times longer on a live streaming video content than the on-demand videos.
Conclusion
Creating cornucopia of content is a great deal of work. Producing content smartly by devising right strategy to disseminate content across channels is the way to go. Drupal has been pioneering in the effective distribution of content and can be a great option to embed your website with the best of content.
Ping us at [email protected] to implement the best content strategies for your Drupal site.
He is a colossal cinephile who loves to watch critically acclaimed movies and binge tv series. He likes to write reviews on the films that he has watched and the technology he likes. He relishes exploring music produced around the world with a special liking to The Pixies and Sigur Rós. He seldom likes to sketch as well. He heads to the park and the gym to attain the goal of supreme fitness.