How Performance Tuning Affects Your Bottom Line
Are you sure your website is serving its purpose right? How do you know if your website brings in revenue and reaches your target audience?
Gone are the 90's when you had to walk to the store, wondering what the product or service might feel like. Any consumer today has the privilege to access almost every information from the web than ever before, meaning, you nearly have 6 seconds to provide an appealing experience to pull them into your sales orbit.
The best practice is to align them with your sales pipeline is by providing a flawless website experience, don't let them roll-up their eyes. Whether it may be a product gallery or a checkout or a payment gateway.
How Speed Affects Your Revenue?
Loading time is a major contributor when it comes to the abandonment of a page.
Your users will stay for longer periods of time, ultimately bringing down your bounce rates and improving the indexing mechanism on Google. An appealing user experience can't be underestimated when your goal is to boost conversions.
A user would likely avoid the long time your website is taking to load. Remember, there are thousands if not millions of alternatives available which can work as better substitutes.  Somethings are summed up in the below infographic: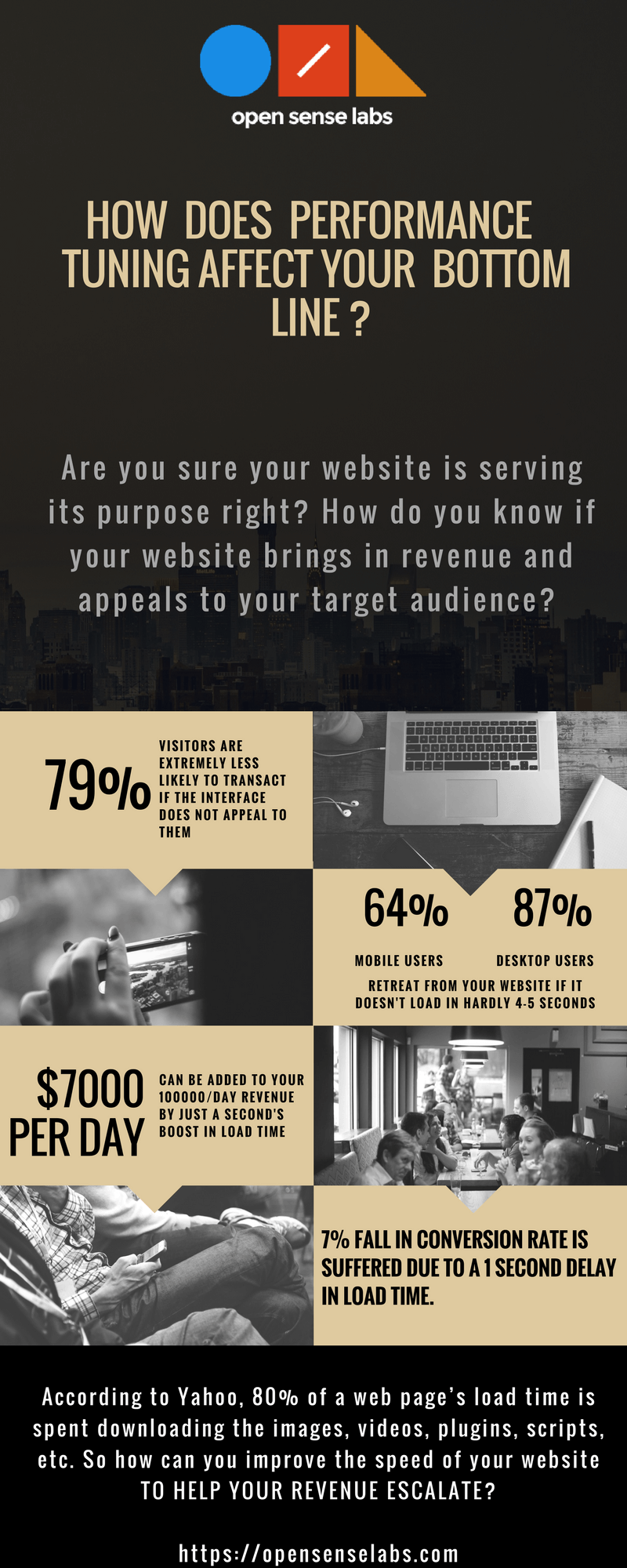 Map the above information with your business dynamics to help understand visitor behavior. Every increased second creates more dissatisfied customers and can have a significant impact on your sales. It is clear how the speed of the page remains a deciding factor for your conversions and sales.
Given below are some of the case studies where page loading time affected the revenue:
Amazon- A 1 sec slow down could cost the company $1.6bn
Bing- 2 sec delay lead to 4.3% loss in revenue per visitor
Shopzilla- Increasing the speed by 5 secs improved the conversion rate by 7-12 percent
Walmart- Reduced page load time by 4 seconds which resulted in improved speed score by 44 points.
eBay- Improved speed by 100% and experienced improvement by 4 times in the SERPS
The Domino Effect
By now it is very clear to us, how speed affects the bottom line of your business. But there are a whole lot of activities going undercurrent which arise from the speed of your website.
Your Speed Matters To Google: You would be wrong to think that only keyword optimization affects your rank. The Google has disclosed that the site speed is one of the contributing factor considered in ranking the search algorithm. In other words, the slower your site speed, the further down is the ranking. Why? As the algorithm crawls the results for the query, it presents only the ones which load in time. The ones that don't (because they are slow) are not indexed. (In 2010, Google announced website speed would affect your search ranking.
Your Speed Matters To Facebook also: In August 2017, Facebook announced that it would take 'speed of the shared link' (in its news feed) into consideration when ranking the status in the news feed. If the algorithm suggests that the page load time is quick, the link to that web page might appear higher in the news feed.
Affects your daily search users: The speed of the page load time affects your daily search users as well. It is estimated that nearly 50% of web users expect a site to load in 2 seconds or less. If it takes more than 3 seconds to load, most users will abandon it.
Affects your unique visitors: And if you are losing on your regular visitors, be sure you will be losing your unique visitors (first-time visitors) as well. This means you're not just losing conversions from your current visitor, but that loss is magnified to their friends and colleagues as well. The end result – you are losing on your potential sales because of a few seconds of difference.
Conversion rate: It's no surprise that 79% of customers are less likely to buy again from a site that lacks a speed optimized performance. As everything gets faster, you cannot afford to stay still. All those potential sales you could be losing. All because your website takes a second or 2 longer to load.
Drupal provides high scalability with its modules such as the lightning module which offers easy embedding of various content for the media and publishing websites.
HOW TO IMPROVE PAGE SPEED?
Load speed of the webpage is affected by images, videos, plugins, scripts, etc., available on the page. Apparently, these are the basic and important features of any webpage. So how can you improve the speed of your website to keep your revenue moving? Before anything, it is important that we know where the problem occurs. It is mainly on either of the 2 fronts (i.e., frontend and backend) or on both. You can follow the below-mentioned practices to improve the performance of your site.
For more detailed view, read our blog A Comprehensive SEO Guide For Your Drupal Website.
FRONTEND
Cache your resources
Aggregate CSS and JS
Minify HTML, CSS and JS
Compress the Images
Use of GZIP Compression
Set Expiry Header
Prioritize Visible Content
Remove excess redirects
Arrange the resources properly
Resources not on any cookie free domain
BACKEND
Enable web server (Apache, Nginx) performance module
Tune MySQL
Index database table
Adequate hosting the website
Insufficient server resources such as RAM, cores etc.
Links between performance and business KPIs are undeniable. By talking the same logic, IT and marketing, together, need to work to change the status from "X times slower" to "$Y more revenue". If you are looking to improve the performance of your website, feel free to write to us at [email protected]
Understanding the problem is half the battle won. To win the other half, you need to work on the solution. Ideally, it is suggested that you should consult with your web developer to execute your strategy (to speed up your website).
Performance tuning is another of those endless pursuits wherein you may not increase conversions dramatically, but double the underlying probability from your end.
Akshita is a Senior Content & Marketing Associate at OpenSense Labs. A Hubspot certified Content Marketer, she likes to devour content related to SEO, open source technologies, and politics besides Drupal, of course. As a hobby, she trains young girls with TaeKwondo.

She is also a big Game of Thrones fan and quotes Tyrion atleast 5 times a day.