Chatbots: Are they important for your website
You ping your best friend and get your doubts resolved just by having some quick chats. After all, a friend in need is a friend indeed. When you land on a business organization's website and want to have a quick tour of their offerings, a chatbot comes to your rescue. Drupal helps power your websites with chatbots for an interactive and guiding experience to the user.
Instantly helping us to understand a company's website and their products and services improves the digital experience. This emboldens our interest in that site and lets us explore more of what they have to offer.

Chatbot and its importance
"What are chatbots?" - reads a question on Quora.
Let's see what chatbots are exactly.
They lend conversational UI that communicate with the users and are very vital for a business organization. As software agents, they can interact with humans through text messages using a natural language like English. Here, the purpose of texting can be due to either of the following reasons:
Enquiring about the services
Ordering an item from their site
Fixing frequently occurring issues
They are sure to excite a lot more tech lovers and is destined to be among the most sought-after technology in the coming years.
One of the first things to be influenced by this technology, that follows the customer-first approach, is your website. It can be the first point of information gathering and can be an immense help in providing quick answers to your online users.
Also, they use natural language to interact with the users. So, you do not have to learn a new website interface and get to know the scheme of things.
Moreover, unlike mobile devices, where you have to install mobile applications and understand how it works on your own, chatbots does not require you to install a new app. The reason is that you already have at least one app for instant messaging on your device like SMS, Whatsapp, Slack, Facebook messenger etc. 
One of the foremost reasons for its whopping potential is that it is powered by artificial intelligence (AI) technologies. This will help it in understanding what users want to know, pass on the information to the backend, and provide them quick and better response.
How are chatbots important for your business?
According to the figures given by Business Insider in one of their surveys, US has already seen the first bubble of chatbot adoption forming among the millennials and GenXers.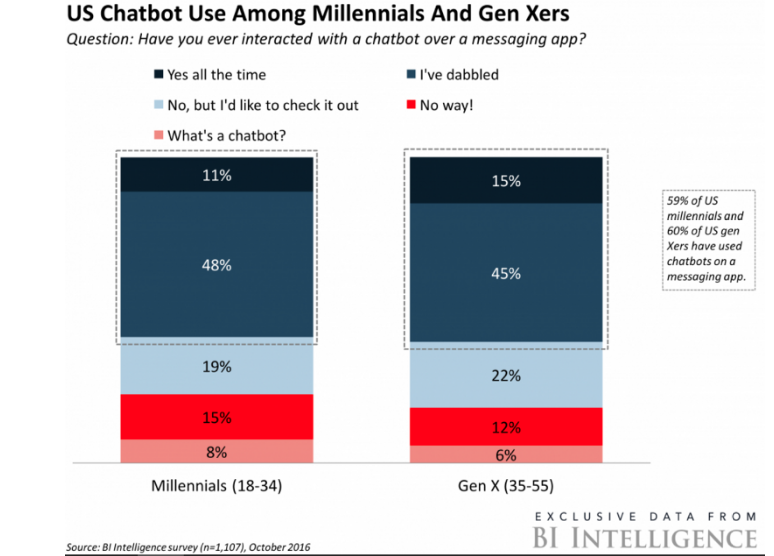 Also, a report by Business Insider clearly states that instant messaging apps have outnumbered social media in their usage.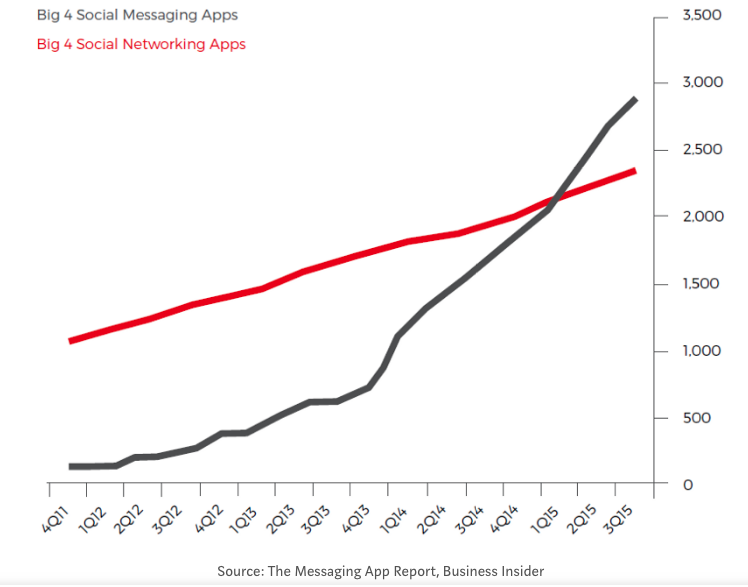 Someone looking to open your website on his or her smartphone to understand the basic troubleshooting techniques can get frustrated even if it takes just a few seconds more to load. Customers are looking to get 24X7 services instantly.
To offer best enterprise services:
Chatbots can seamlessly do significant corporate jobs 24X7. Organisations can compile their domain knowledge in a knowledge base. Chatbots can be programmed to respond to inquiries that fall within this knowledge base.
They can help reduce the number of staffs in your company, thereby saving business costs, and also deliver a much quicker response.
They can maintain a consistency in terms of business logic that is applied to all customer contacts.
Drupal, as an enterprise-class CMS, can be an astronomical option for building a website for your organization's needs with bot integration.
What's the buzz about chatbot in the Drupal fraternity?
DrupalCon Baltimore 2017 discussed bot integrations using Drupal 8. They used a simple open source module called Facebook Messenger Bot published by White House. It gives you the tool for building chatbot on a Facebook Messenger platform.
They decoupled the module and enabled it to integrate with platforms like Slack. The experimentation was done in a way that both the client and the back-end can get the best out of Drupal 8 plugin API by extracting them to Facebook Client and Default Workflow respectively. Some additional incorporations were made for slackbot integrations, custom web app and user interface for the creation of workflows.
DrupalCamp London 2018 also had a presentation that used Chatbot API Drupal module to integrate bot in the site.
Chatbot API is an extra layer that falls between your Drupal installation, your Natural language Processing (NLP) and your several chatbots and personal assistants. It helped them avoid writing new code every time they had to translate interactive experiences from one interface to another. It can work with systems like Dialogflow, Alexa, Cisco Spark Microsoft and Twilio.
How the future of chatbots look like?
Future of chatbots
Chatbots are going thrive on due to increasing demand for instant messaging services and round the clock availability. Let's see what lies ahead for them.
As the Artificial Intelligence development is witnessing a rapid rise, chatbots can grow big time. Advances in AI technology would lead to better validation of answers given by chatbot during a conversation. Also, customer insights will be majorly influenced.
Voice Interfaces have seen a noticeable advancement and is only going to grow with big players like Amazon Echo and Google Home coming to the fore.
Google Duplex - latest entrant in the scene of digital voice assistants - can offer the lifelike conversation. For instance, it can book seat appointments for you by calling a restaurant on your behalf and have a human-like chat.
With the increasing popularity of Blockchain, chatbot adoption will grow multifold. Cryptocurrencies and bot messaging platform can be integrated to a great effect.
Conclusion
At the turn of the century, we come across latest tech entrants in the market. Chatbots are just one of the dots connecting the plethora of tech marvels.
They are amazing for your website as they deliver conversational UI and can colossally benefit your enterprise.
Drupal offers useful modules to integrate bots on your site.
Chatbots are here to stay with their bright future.
We, at Opensense Labs, can help you in the pursuit of integration of bots in your Drupal site and avail great business benefits. Contact us at [email protected]
 
He is a colossal cinephile who loves to watch critically acclaimed movies and binge tv series. He likes to write reviews on the films that he has watched and the technology he likes. He relishes exploring music produced around the world with a special liking to The Pixies and Sigur Rós. He seldom likes to sketch as well. He heads to the park and the gym to attain the goal of supreme fitness.