Drupal for Automating Your Marketing Practices
The industry has been snowballing for the past seven years.
It is important to have a sound understanding of what automating your marketing may bring before you even dive into it.
The Marketing automation software generally brings together content assets such as landing pages, emails, web events, etc. and deliver them to prospects at the most appropriate time in their buying journey.  
78 percent of top-tier marketers believe marketing automation systems to be dynamically contributing to improved revenue.
What after you automate marketing?
Improve your Sales cycle
Lead scoring and nurturing tools can help you warm the cold leads, such technology only helps you generate Marketing Qualified Leads. It requires a human interaction further to nurture them into Sales Qualified Leads.
Now, what companies do is they handover the MQLs to the salespeople who preselect the fine leads which are convertible with rather ease.
Aren't your demand generation programme dollars biting the dust?
To turn this around, you need to deploy a sales development team, so that you never miss communication with the leads you scored on automation.This shall also establish a refined process for the future by bridging your sales development and demand generation programmes.
Reduce the traditional costs while doubling ROI value
What is happening these days? One person handles the job of nearly 30 marketing and salespeople with the help of marketing tools which let you conduct campaigns and several programmes on auto-pilot.
Lead nurturing, email campaigns, and sales campaigns are hovering all over the market and experts in the industry believe this pattern will go a long way in the future as well.
While the traditional marketer sources 31% in the pipeline, the person automating it sources a 45%.
With the old practices, revenue plan attainment met a mere 67%, automating the marketing process raised the bar to 84%. Conversion rates go as high as 50% in B2C as per a research conducted by eMarketer.
Nail multi-channel marketing
One email sent to a potential lead cannot perform as per your expectations and so you incorporate several channels to utilized psychological human-tendencies. Personalisation is on the rise due to marketing automation.
Let's dig a little.
A prospect visits your website and adds a product to their cart or wishlist, you send them an email an hour later, applauding their choice or the product itself. After some time, as they log into Facebook, they see a contextual advertisement taking them to your landing page which talks about the product and also contains product reviews.
Supposedly, the prospect still isn't sold and so you can trigger a text message asking them to seek help from your support team. This is possibly your last resort.
In case he/she shows know growing interest, you can start targeting the prospect with something around their search criterion.
In spite of being super-psychological, this approach isn't much into practice but there is scope for companies to understand the impact of hyper-personalization. Losing customers due to them getting distracted by other similar products if completely off the table.
Improve numerous processes
You are going to have a birds-eye view into your processes. From the time when leads flow-into when they reach absolute conversions. Figuring out sales or marketing qualified leads has been revamped with automated monitoring.
You can improve accountability across your marketing and sales team as now you have a clear insight into which processes are lagging behind or not effectively contributing. Frequent in-depth feedbacks can be provided to the teams involved with the help of available analytics.
Bring predictive analytics into practice
In 2012, Amazon filed a patent for a predictive analytics system that would allow them to begin shipping products before a customer even ordered them.
Quiet mind-boggling?
What they would have done is tracking the user behavior flow on the website, monitoring usual activity. Say, was the visitor trying to add a product to their cart or looking for a cheaper option in its category? This use case of predictive analysis helps winning over customers and to help them score a competitive advantage over their competitors.
Marketing automation has eliminated guesswork from the core of every business. With artificial intelligence coupled, predictive analysis is supposed to get more enterprising with time. As per marketing experts themselves, it is expected to surpass their experience-bound thought process.
Conduct frequent timeless tests
When it comes to finding the best methods, it often helps to change up certain variables to determine which approach has the most influence on customer engagement. Marketing automation allows businesses to test various options for email messages, landing pages, online forms, and more.
For instance, timing can mean the difference between a customer just opening an email, reading an email, or deleting an email without giving it a second thought.
With marketing automation, the frequency with which companies send messages, the phrases they use in subject lines, and the call-to-action can all be adjusted and tested to easily determine the most engaging combination for consumers.
Marketing automation and content management systems have been induced to achieve results.  In the current business climate, you should not underestimate their respective capabilities. Marketing automation has gained a lot of speed around Drupal lately and the community is proud of how they are helping organizations reach peak operations.
Your content management system amplifies marketing automation
Your automation is proactively working towards driving the right crowd to your website, multi-channel marketing is practiced for the same reason. However, once the prospect has arrived on the website, your automated programmes go to sleep. Now, the content available on your website, built on a CMS, has to do all the talking.
Automation is being underutilized if it has not being integrated into your content management system. When integrated, you can effectively push your leads through the very stages of the conversion funnel. Every little thing, from a Call-to-action to the entire User Experience is fairly going to have a hand.  

Well nurture your leads by timely engagement
Timing matters a lot when it comes to lead nurturing. Delivering the same message or piece of information even minutes apart can propel them to conduct a transaction with you or give you a closure.
Website forms are a great example of this. Once a visitor has allowed you to contact them via email for newsletters or webinars or news from your company. Time is for you to understand how far they are down the funnel and take the appropriate action instead of sending them cold emails which are irrelevant to their interests.
Your marketing automation platforms should be integrated with your CMS dynamically, so that the moment someone fills a form, a personalized confirmation email is sent to them. You can even automate sending valuable content they might have signed up for, minutes after they registered.
Also, your CMS should provide time-sensitive information to the integrated tool so that the strategically planned action can be undertaken.
Personalise your messaging with powerful data from Drupal
The marketing automation tool should receive vital data from your CMS in order for you to be personalizing your outgoing marketing material.
Personalisation for new and retained customers has been the elephant in the room for a long time. How do you manage new visitors with automation and old customers on a very personal level?
With the help of high-end data collected by your CMS, it is quite easy to figure out who is who.
A new visitor behavior is easily differentiable from the long-term one. If a new visitor interacts with the chatbot on your website and has a couple of questions to be answered, the best thing to do is respond to their queries via email or create a separate landing page which has answers to all of their questions.
On the other hand, if the customer made a fifth purchase from your website, you can deliver them emails providing information on more products they might love to buy.
Content management systems play a fair role in identifying who is who and feeding the data to integrated marketing automation tools so that further action can be taken.
Utilise the content repository
This is where the CMS outperforms the marketing tools out there. All the published content stored in your content management system can be monitored by marketing automation tools to get an insight into visitor preference. While some might like a certain category of content, some may prefer other. With the help of integrated tools, you can prioritize content delivery and strategize to meet their requirements on your website.
Some Best Drupal marketing Automation modules
Drupal being the most scalable and flexible CMS across enterprises, it's core strength is the big community backing it up, inventing new modules and integrations as per market requirements and pushing cutting-edge innovation.
With more than 10,000 modules in Drupal 7 alone, you should not give a second thought to integrating your marketing automation tool into Drupal.
Between 2012 and 2015, 84 percent of top-performing businesses use or plan to use marketing automation software.
Marketo
Marketo is one of the leading marketing automation software which adds tracking capability to your site. As well as the ability to capture lead data while a user registers or submits a form on your website via web form integration.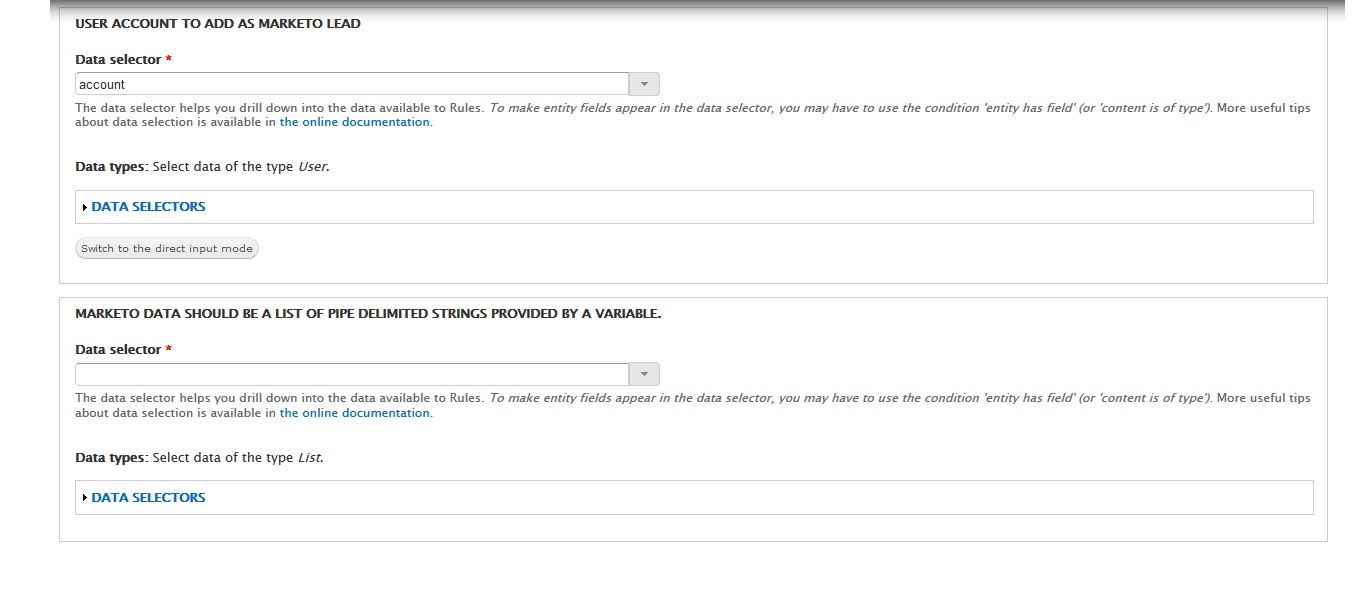 Hubspot
With the simple integration of its javascript tracking code, you basic tracking needs will be covered. Also, you can configure submission information from any web form on your Drupal website to send to Hubspot for well affirming your leads. To get you a head start, their documentation on Drupal.org shall be more than sufficient.
Pardot
Salesforce acquired Pardot recently and their contributed module handles the marketing automation basics pretty well. It does more than adding tracking code and excluding data from the admin panel. The Pardot module provides web form integration while letting you create a corresponding form handler in Pardot and map the Drupal fields in the Web Form UI to immediately send the submitted data to Pardot.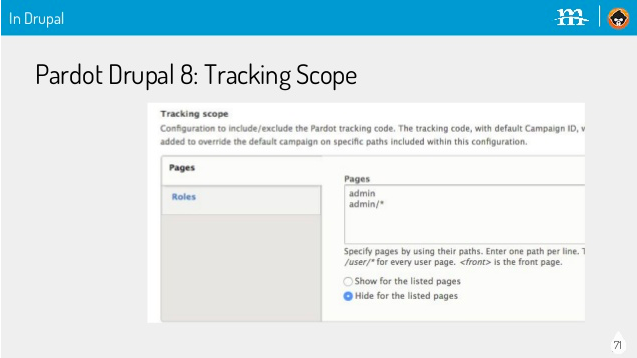 Salesforce
The Salesforce project is a robust suite of modules that can push data from Drupal to Salesforce, pull from Salesforce to Drupal or go both ways. The basic idea behind the Salesforce Suite is the synchronization of Drupal entities with Salesforce objects, so it goes quite a way beyond simply sending information from Drupal to Salesforce.
Depending on the scale of your integration, the configuration and use of this module can get fairly complicated, so be sure to check out the documentation available on Drupal.org. If all you're looking for is a simple connection between a web form and Salesforce, take a look at the Salesforce Web Form module.
Personalise
Personalize was developed by Acquia for use with Acquia Lift. The smart thing about it is the fact that it introduces the idea of a decision agent. A decision agent is basically the third-party system Drupal is talking to, to decide what content to show to the current visitor. In the case of Acquia, Lift would be the decision agent, but any development team could use the framework provided by the Personalize module with a different decision agent: Sharpspring, for example. Personalize is still a pretty new product, but there are some very exciting things happening. Keep an eye on this one.
Constant contact
The Constant Contact module provides a few more advanced features for interacting with and implementing forms on your Drupal site. On top of web form integration, this also ties the Drupal registration form in with Constant Contact, allowing you to open up subscription options to users creating an account on your site. There are quite a few other features that may be interesting to Constant Contact power users, like import/export of subscribers from the Drupal admin panel. You should take a look at the product page for further knowledge.
Hi there!
While Drupal can help you conduct marketing in a fairly economical and the most efficient way. In case you have decided to purchase marketing automation tools and want to get consulted on integrating them into your Drupal website. You should not hesitate in dropping us a line at [email protected], we would revert to you within the hour.
Harshit handles Content & Marketing at OpenSense Labs. A true bibliophile, his favorite books are Purple Cow, and Rich Dad Poor Dad. Filled with all the energy, Harshit hates to sit idle. Thanks to his caffeine intake, he keeps the energy flowing in the office as well as outside it.
You will see him plugged in listening to deep house and country music while kicking ass with marketing. His love for beer is well known throughout OpenSense Labs