Top 2018 Drupal Migration Modules
Drupal 8 has been in the market for good two years now. It's mobile first and editor-friendly approaches have led to staggering growth rate. However, you might be running Drupal's 7th release and you might be still okay with it. Considering your website's business scope, you may or may not require an upgrade. But it is always good to upgrade as older versions go nearly obsolete in some time. 
Read what does Drupal 8 bring to the table 
Here's Why You Should Move to Drupal 8 Right Away
The below statistics show how the Drupal community's real concern is accelerating Drupal 8's existing capabilities while widening its feature pool. These recorded statistics are from January 1st to April 30th of 2018, which show the tremendous speed at which the community is pushing Drupal 8 in various verticals. 
One of the situations you would have to deal with when running Drupal 7 is not having the latest and frequent core releases at hand. This may lead to security, functionality, and compliance loopholes which would further deter the output of your online business. Here are some statistics which would get you thinking:
Drupal Core Release Statistics
During the recent period of four months, which is quite a turbulent situation for many active Drupal 7 web properties .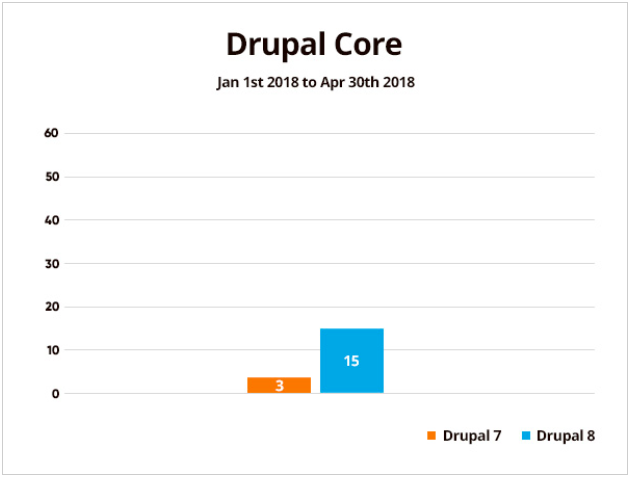 Drupal Module Statistics
In the same 4 month time period, 500 new module projects were created for Drupal 8 while only 174 new projects were created for Drupal 7. This is again an unpleasant sight for Drupal 7 users as they would be suffering with the module crisis. Which would in some or the other way affect their web property's well being or affect their overall efforts to improve functionalities and user experience across their website.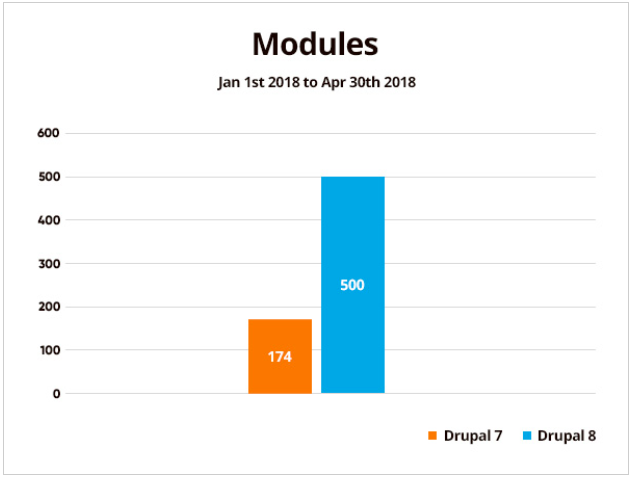 Drupal Themes Statistics
From January 1 to April 2018, 31 new Drupal 8 theme projects were created while only 3 were created for Drupal 7. As you can see, this would become a nightmare for e-commerce and showcase-oriented websites. Unavailability of the latest trendy themes is always going to keep you at a two-hand distance from providing the best possible user experience.

However, Drupal 8 websites would be stuffed with numerous latest themes to try-on, hence unlocking the ability to provide a trendy and rich user experience.
With Drupal 8 getting better stability and advanced functionalities, it is extremely recommended to hop on the migrate-to-8 bandwagon right now. I say this because you would have to do it anyway after the D7 end of life is announced. And that would be a rush hour.
Here is a complete migration guide to help you upgrade to Drupal 8. It also addresses the problems you might face when migrating to Drupal 8 from 6 or 7. 
While you are giving a thought to migrating immediately or at the soonest. You should not worry about the financial or resource scarcity. We can help you in making the right decision, taking into consideration your time to go to market again. 
Here are some core and contributed modules which would assist you in migrating right off the bat. However, they would require you to have some technical expertise though.  
Here are Some Modules to Help you Migrate 
These modules fuel a better D7 to the D8 migration process. To help you further, we provide a free consultation regarding your migration decision. Check out our Drupal upgrade and migration services. built in-house. We are here to address your concerns regarding migration as well. Please feel free to reach us out at [email protected].
Harshit handles Content & Marketing at OpenSense Labs. A true bibliophile, his favorite books are Purple Cow, and Rich Dad Poor Dad. Filled with all the energy, Harshit hates to sit idle. Thanks to his caffeine intake, he keeps the energy flowing in the office as well as outside it.
You will see him plugged in listening to deep house and country music while kicking ass with marketing. His love for beer is well known throughout OpenSense Labs