Drupal vs Wordpress: Everything you need to know
There is always too much of turbulence regarding the #bestcms in the market and I won't call it an overhype. Drupal and WordPress do power almost every organization's online presence. Content management systems have become hassle-free and gigantic with time. And can you really imagine the world without websites? Oh please, we have come really far.
Now, Drupal and WordPress do dominate the market as they are free to use, are both open source platforms, have handsome amounts of free plugins and modules to help extend functionality and are loyally uplifted by their respective communities. That's what generates turbulence among the end-users and so is the case with you. Let's freshen up the air a little... I will simplify things down for you.
We are like barnacles in the sea looking for the larger boat to stick on. But when it comes to content management systems, your needs will play a fair role in which CMS of the two makes sense for you.
We will cover everything today, from facts to functionalities, you will have made the right choice by the end of this piece.
Drupal vs WordPress, #FACTS.
Here are some global  statistics  which show how many users  switched to and from Drupal or WordPress  and their respective  market cap  during the years  2011 to 2015.

Over those five years, both the Drupal and WordPress communities have contributed a lot to their respective systems to make them more powerful and efficient. In September 2014, WordPress pushed forward their potential by launching WordPress 4.0 - Benny and hand in hand the Drupal community toiled hard enough to create something even better, leading to the release of Drupal 8.0.0 in November of 2015. The launch shook the internet as well as raised questions to both of the CMS giants. Two years down the road, statistics show who retained users well among the two: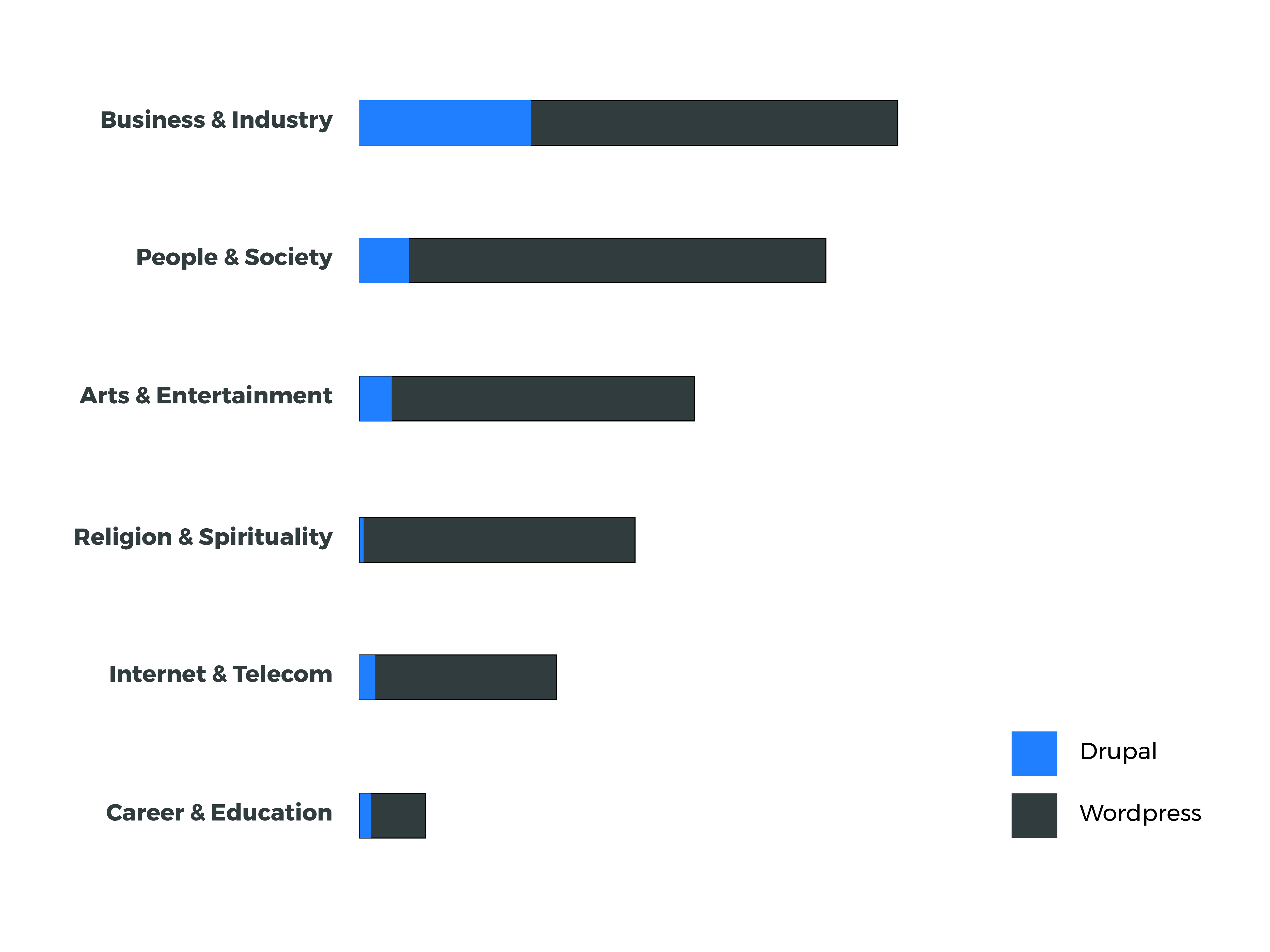 Believe me, it's easy to decide when you have the facts in mind. Drupal and WordPress please different sections of the industry. Business, technology, news, entertainment, and shopping, every business wants to outperform the others and so do Drupal and WordPress. As per the stats, WordPress bites the bigger share in the market but does it perform better than Drupal?
Let's dig a little deeper, from the standpoint of functionality and capability. These two CMS's have their own set of advantages and disadvantages.
Which is the most secure between Drupal and WordPress?
Security is without a doubt the best differentiator between Drupal and WordPress. Drupal is built upon rigorous coding standards with tools to ensure secure coding practices. With enterprise level, security and site scaling Drupal is the only preferred CMS in the government and many other sectors. With over a million developers, designers, trainers, strategists, coordinators, editors and sponsors all working in alliances to better shape the platform you can be sure that any security vulnerability will be reported to the Drupal Security Team and dealt with as quickly as possible. It is extremely rare that any serious vulnerability will ever make it into an official core software release. WordPress doesn't seem to have entered the security territory yet. Take a look at some official websites of nations that are built on Drupal -
Overleaf, WordPress security doesn't quite look z-secure to the government bodies worldwide. A report from #Sucuri found that vast majority of infected websites were hosted on WordPress.
 Infected Websites Platform Distribution Q1 - 2016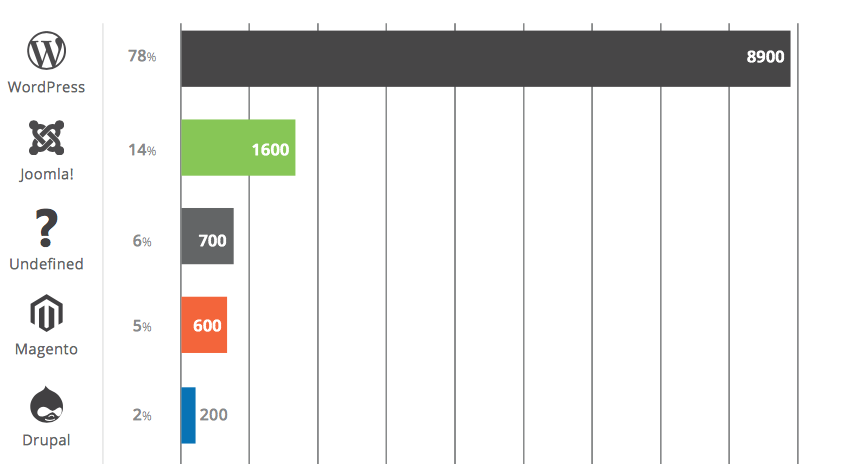 The figures thrill me as well. Also, you may find a lot of answers on how to clean your hacked WordPress sites on google. So, following the herd and going with the market giant isn't always that fruitful a choice right? The general rule of thumb is that WordPress is fine for small to medium sized sites which are less prone to being hacked and Drupal is great for these sites too, plus it is scalable to huge enterprise sites ensuring security to the core. In case security is one of your prime concerns, you shouldn't be having second thoughts.
Distributions provide things in a heartbeat, true, but where will you get them?
Distributions provide site features and functions for a specific type of site as a single download containing Drupal core, contributed modules, themes, and pre-defined configuration. They make it possible to quickly set up a complex, use-specific site in fewer steps than if installing and configuring elements individually. Breaking it down, you can have the functionalities of a commerce site or a government site or a hotel site without revamping the entire website for an industry-specific functionality. The development hours dramatically shrink with the use of various distributions.
Cool right?
On the other page, WordPress seems to be deprived of distributions. Distributions are uniquely Drupal-specific. To make it easier:
Commerce Kickstart is the quickest way to get up and running with Drupal Commerce. It includes the latest versions of Drupal core, Drupal Commerce, and the other modules it depends on. It also gives you a set of options to create a fully-featured demo store out of the box complete with an attractive theme, catalog and search configuration, and a custom back office interface.
Open Social is a free Drupal distribution for creating private social networks. You can establish a functional private social network without any hassle or lengthy developer hours. Lightning, a distribution developed and maintained by Acquia.
 Lightning provides a framework or starting point for any Drupal 8 project that requires more advanced layout, media, workflow and preview capabilities. This changes a lot. WordPress being the leader in the business has not rolled out distributions for businesses.
Which of the two is more capable? Drupal vs Wordpress (Crucial round)
Just like security, the functional capability is another prime reason to compare Drupal and WordPress. As end-users, we wouldn't appreciate any discomfort and inability to practice certain features that bring change to the overall user experience. Drupal and WordPress both have been dominating the CMS market because of their respective potentials.
A lot of users and developers have pointed out that Drupal is the more complex of the two and that by far is the underlying truth. However, it is also important to view said complexity as something that also promotes advanced functionality – if that is something that you currently require or see yourself utilizing in the near future.
For example, if you require multiple content types or page templates, Drupal has the features in-built for you to do that. It also has more advanced user permissions. When it comes to handling huge traffic and content, Drupal takes the rope as WordPress isn't more efficient for huge Both Drupal and WordPress are multi-lingual, they play their roles well when it comes to international presentation. However, it is more like, if you want to build a blog you go with WordPress and choose Drupal if you want to build WordPress.
A developer can build something that's elegant and content-rich through Drupal, on the other hand, there's always the possibility that your website may not look appealing or the same as some businesses next door, if you customize using a free theme from WordPress. This for sure is the easiest route, but things which are easier to accomplish always leave us feeling compromised, isn't it?
A CMS should be overfriendly, unlike humans. Which of the two is SEO friendly?
Needless to say that in the ever-changing internet dynamics, it is necessary to rank on search engines in order to pull people into your conversion funnels. Ranking on google is what everybody wants today and it is true as it gets. With more than a million competitors in the online market, you should be aiming to stand-out and wave with longer arms. SEO is the where the real game begins for businesses worldwide. Both Drupal and WordPress are wised up for SEO. The true SEO capability of WordPress is packed in the numerous plugins available which make advanced SEO super-easy in WordPress.
Consider using popular plug-ins such as Yoast or All in One Pack that really let your optimization efforts soar. WordPress allows creating tags for posts. Besides, it is possible to optimize permalink structures and set all the appropriate metadata for pages and posts. The remainder is that WordPress SEO is quite easy to utilize even if you are a newbie to the whole website game. Drupal has the best SEO capability that is readily available. It provides its users with several modules available for any SEO activity and tracking of the web statistics. It can automatically produce customizable meta tags or create title based URL nodes for a website, a characteristic that is lacking with WordPress. Additionally, it supports RDF and integrates very easily with Google Analytics and offers more advanced SEO facility settings. Drupal SEO requires developer expertise in order to perform to its utmost potential and has been paying off well for almost every Drupal website.
Now, as it may have been clear, WordPress is suitable for designers and beginner level businesses and Drupal, on the other hand, is preferred by developers and blue-chip organizations to battle rankings.
Drupal 8 or Wordpress? Which is more affordable?
The higher the availability, the cheaper the costs. Both the systems are free to install worldwide. When it comes to developers, WordPress developers are easily available than Drupal developers. In this jam-packed market, Drupal developers seem to fairly charge more as they need to deal with intense complexity to deliver effective results. However, the Drupal community has put efforts into incorporating symphony as a framework as it is more familiar in the PHP community and would make Drupal easily accessible to adapt to and begin a profession in. This has made Drupal developers more of available than ever before.
Whereas, WordPress development is far off from being costly but has its own drawbacks for large-scale businesses. Drupal is an advanced CMS for serious businesses and so are the development or maintenance related costs. With all the inbuilt or free plug-ins we get with Drupal are more than sufficient and you would have to hire a Drupal developer in order to get something more as per your requirements.
The bigger the better, which is bigger in size?
WordPress, as we know, has evolved from a blogging platform to a fully-fledged content management system. It now hosts almost 26% of the world wide web but critics have shown its inability to swiftly host more than the basic amount of content. If you somehow load too much furniture on a hatchback, it will not be able to run well. The scalability of WordPress isn't quite impressive. You may find it hard to stuff more content as your business escalates. You can definitely easily start small with WordPress but getting bigger would not get better with it.
Drupal's foundation is large-oriented, it was constructed for organizations which ought to have a prior web presence whilst hosting tons of content for their versatile buyer personas. Security and Scalability being the prime concerns, it has turned out to be excellent for big enterprises. The one flag that Drupal holds well is its fluency to operate even after being loaded with an enormous amount of content. However, it may be difficult to host your business on Drupal as a start-up, the reason being the development and support costs.
The remainder is, you should know your roadmap and potential requirements before choosing any of the two world's best content management systems. Drupal is often preferred by organizations who have a nice bulk of audience to attend and content to present, whereas WordPress is good for starting small taking into account it's free set-up and operational ease.
Harshit handles Content & Marketing at OpenSense Labs. A true bibliophile, his favorite books are Purple Cow, and Rich Dad Poor Dad. Filled with all the energy, Harshit hates to sit idle. Thanks to his caffeine intake, he keeps the energy flowing in the office as well as outside it.
You will see him plugged in listening to deep house and country music while kicking ass with marketing. His love for beer is well known throughout OpenSense Labs