Losing potential clientele to improper website response is not something you would want as a developing business. The more swiftly you display your content; the better gets your grip over your desired market.
What is Performance Optimisation and why would you want to consider it?
More than half of web users expect a site to load in 2 seconds or less, and they tend to abandon a site that does not load within 3 seconds. With Drupal performance tuning, you choose to end the recurring abandonment. Drupal has in-built caching system to serve the page rapidly. Moreover, it easily integrates with Memcached or Redis to server with the pages from main memory without initiating a query. It will drastically curtail the website's loading time and perform throughout in a swift manner.
Going further, having a responsive and speedy mobile site affects your search engine rankings. The search engine looks at speed across the board, on your desktop and mobile sites. In fact, the mere existence of a mobile site affects your search rankings. Google reports that 57 percent of users would not recommend a business with a poorly designed mobile site, and 40 percent go to a competitor after a bad mobile experience. Therefore, to uncover the potential of your business, make sure you represent your business on a super responsive mobile site.
How does performance affect bounce rates and visitor retention?
Page loading time is the heart of your website's user experience. Many times, you would have let it slide to accommodate better aesthetic design, new nifty functionality or to add more content to web pages. Unfortunately, website visitors tend to care more about speed than all the bells and whistles we want to add to our websites. Remember that for every second you shave off load time, you will tend to boost customer confidence and trust in your site and sow the seeds that will make them way to tell others about you, your abandonment rates (bounce rates) will meltdown and the visitors would feel comfortable visiting you again.
Should you go with us?
To deliver the smoothest website possible, we employ a methodology called "Performance Budgeting" in our development procedures.
Expected Load time and Google Page Speed score are maintained in the below performance budget as the heart of our continuous and iterative development process.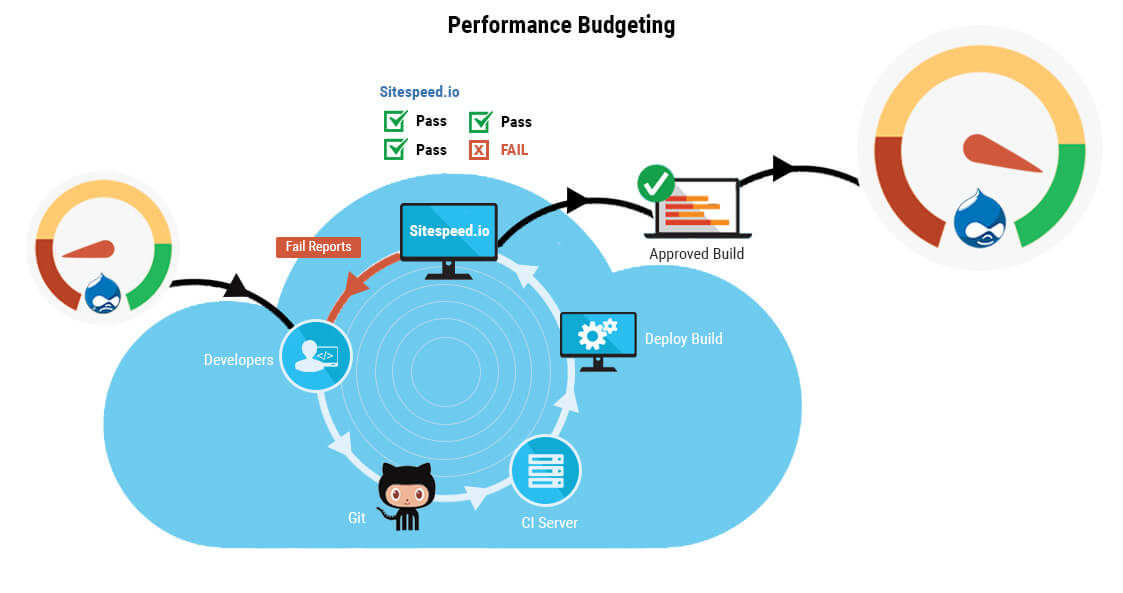 It takes into consideration the points below:
Average load time of 2 seconds or less
Defined maximum limit on size of page
Defined maximum limit on number of HTTP requests
A check for all server site tuning required ensuring an efficient and responsive website
Google Page Speed performance grade is above 90
Our Continuous Integration system's integration with Google Pagespeed Insight tool and an internally developed performance audit tool makes the required checks at every build phase. Our developers perform regular and high-intensity performance assessments to analyze loopholes and make necessary modifications to deliver you a top-notch website in action.
We have your back, always.