Drupal 8: As a CMS
Drupal 8 is the latest release of the world's most widely used enterprise web CMS. It's fast, flexible and ideal for Rapid Application Development. Drupal 8 taps into the concentrated innovation from its open source community. Now with Drupal 8, it is much easier to drive value to the web application development for successful digital experiences. Apart from being free of licensing cost, Drupal comes inherently with the necessary functionalities.
Organisations using Drupal 8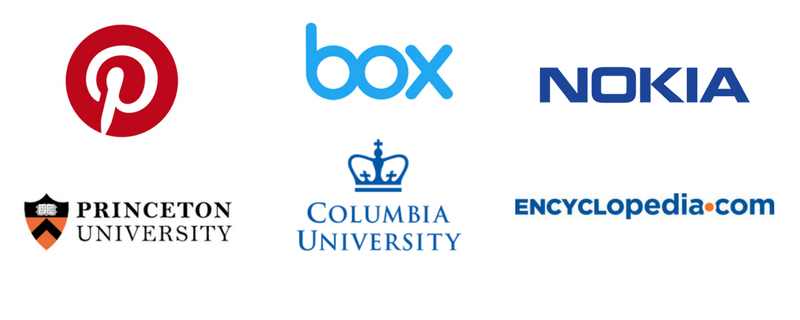 It's Exceptional Capabilities
Mobile First
Drupal 8 has been architectured with mobile in mind. You can deploy content for one device and expect it to adapt to various devices. With Mobile in it's DNA, Drupal 8 is inherently responsive. There is something more, Drupal 8's web services make it such a capable platform for delivering content to mobile applications or other web applications, or any other place you want the data. Garnering the full support of Headless Drupal, data can be pulled from Drupal 8 to the application which you are interacting with without the need of visiting the website.
Multilingual Capabilities
Drupal 8's is packed with built-in translation capabilities right in the admin interface. You can also create pages with language-based Views filtering and block visibility. Providing localized digital experiences has become cost-efficient and faster than ever before.
Drupal 8's four core modules allow every element of the site to be translated quickly. Quickly build everything from customized sites in any language to complex multilingual web applications with dynamic, language-based displays, using multiple admin languages and translation workflows -- all in Drupal.
A Whole New Authoring Experience
Drupal 8 brings content management at your very fingertips. Drupal 8 brings a revamped mobile-editing experience, in-place content creation to fully engage and utilize the power of content for mobile applications and websites, it has brought granular tagging in the picture.
Drupal 8 comes with an all-new CKEditor. Being a robust enough HTML editor, administrators and publishers can now avail several WYSIWYG editing functionalities which were earlier accessible only on workstations.
Content authoring is a whole new experience with intuitive tools in Drupal 8 for content creation, workflow, and publishing without the need of being on your workstation. Inbuilt features such as authentication, permissions, and roles help maintain the editorial workflow efficiency. Content publishing now comes with a preview option for a better publishing experience.
API-First Approach
Drupal 8 brings REST API out-of-the-box, into the Drupal picture. Which enables its capabilities towards APIs. Drupal introduces you to a content management where APIs will be relied upon to fetch the right content components and present them in the right way for individual platforms.
Robust Accessibility  
Drupal 8 allows the native usage of HTML5. It makes it easier for developers to build fully-responsive websites accessible across all devices. By supporting industry-standard accessibility technologies like WAI-ARIA, Drupal 8 is driven to prime accessibility.
Flexibility and Scalability  
Drupal 8 is well known for its scalability, from building small scale websites to a website with more than a billion visits per day. Drupal 8 opens the multisite opportunity for multinational businesses who want to cover every possible region. Drupal 8 with its API-first characteristics and the User Experience developments are bound to meet the needs of businesses with small but highly integrated systems, as well as those with large, complex infrastructures.      
A Revamped Theming Engine  
Twig, a PHP-based theme engine in Drupal 8 now allows Drupalers to develop templates with utmost ease like never before. Creating templates is relevantly fast and secure. With Drupal 8, developers can take advantage of the new theme engine to create fully-functional and appealing websites as per business needs be.
New field types  
Now Drupal programmers don't need to define field types. Drupal 8 by default provides and supports new field types such as email, date, address, telephone, and etc. Administrators can now even use the add fields for comments, contact forms, blocks, nodes, and users simply by defining the field name and field type.
Performance Improvements  
Mostly visitors abandon websites which take more than the usual time to load. Drupal 8 introduces new caching capabilities to help developers improve the performance of small and large scale Drupal websites. This addition gives a tremendous advantage to User Experience by rendering the previously viewed content from the cache repository and offloading JavaScript until specifically necessary.
Symfony Framework
The introduction of the new Symfony framework was a big move to revamp Drupal 8's codebase. This integration renders high performance and eases the creation and maintenance of applications. Applications using Drupal 8 have turned out to be more robust and scalable. The MVC architecture of Symfony framework makes the codebase easy to maintain, reuse, and scale.
A Technical Comparison - Drupal 8 vs Drupal 7
 

Drupal 7

Drupal 8

 
 
 

Cost

Free

Free

Release Date

January 5, 2011

October 7, 2015

Maturity

Has lots of modules, documentation, and tutorials.

Fewer Modules, documentation and tutorials.

Output

Provides XHTML markup by default.

Provides Semantic HTML5 markup by default.

Front-end libraries

Has just one front end library-  jQuery v2.x.

Has numerous front end libraries- jQuery v2.x, Modernizr, Underscore.js and Backbone.js.

Schema.org markup

Does not output schema.org markup

Drupal 8's core RDFa module does output schema.org markup

WAI-ARIA attributes

WAI-ARIA attributes are not so extensively used in Drupal 7

Drupal 8 uses WAI-ARIA attributes very extensively.

IE Support

Supports IE 6, 7 and 8

Does not support IE 6, 7 and 8

jQuery

Drupal 7 includes jQuery 1.4.4 and jQuery UI 1.8.7

Uses jQuery 2.0 and other code that assumes modern HTML5/CSS3 browser support.

SVG support

Supported browsers that did not support SVG (including IE8 and Android Browser 2.3)

Does not support browsers that do not support SVG (including IE8 and Android Browser 2.3)

Default Theme Engine

PHPTemplate

theme_* functions and PHP-based *.tpl.php files

Introduces Twig

*.html.twig templates ()

CSS and JavaScript aggregation

Less effective CSS and JavaScript aggregation, as compared to 8

Improved CSS and JavaScript aggregation.

Adding CSS or JS

drupal_add_css() and drupal_add_js() functions

Attaches JS/CSS assets in the #attached property of a render array using libraries

CSS Class Changes in Menu

.menu li.expanded

.menu li.collapsed

.menu li.leaf

.menu li.active-trail

.menu li.first

.menu li.last

.menu-item–expanded

.menu-item–collapsed

.menu-item–active-trail

.menu-item:first-child

.menu-item:last-child

.menu-item—leaf – removed

CSS IDs

Contains more IDs than Drupal 8's CSS.

Contains fewer IDs than Drupal 7's CSS.

CSS (file) structure

CSS (file) structure is not based on SMACSS & BEM.

CSS (file) structure is based on SMACSS & BEM.

CSS3 pseudo selectors

Used first/last/odd/even classes

Uses CSS3 pseudo selectors.

Core modules

Many preprocess functions and CSS files are included in core modules.

Replaces many preprocess functions and CSS files which were previously included in core modules by utilizing Classy, a core base theme that injects classes into markup, and includes the corresponding CSS.

Breakpoint Media Queries

Does not use breakpoint media queries to control how the site looks on different devices.

Uses breakpoint media queries to control how the site looks on different devices.

Views

Is a contributed module

Views is added as one of the core modules

CKEditor

Does not utilize CKEditor

CKEditor, a core module in Drupal 8, is a visual html editor used for editing web pages that brings common word processor features directly to web pages

Edits

Must go to edit page to make edits

Inline editor helps edit contents of a page without going to the edit page, instead just right click to edit.

Picture Module

Does not have Picture Module

Features Picture Module that automatically resizes the images for different screens.

Symfony

Does not include Symfony framework

Uses Symfony framework and its MVC architecture which makes code easy to maintain, scale, and reuse.

OOP Concepts

Has less Object Oriented Programming concepts

Comes with Object Oriented Programming concepts to the most part of the system

REST

Does not feature REST

Representational State Transfer (REST) allows interaction with other applications for creating, reading, updating and deleting resources.

New E-mail Field

Simple email field

Email Field automatically validates e-mail address and generates a 'mailto:' link when displayed.

New Telephone Field

Simple Telephone Field

Telephone Field generates a 'tel:' link when displayed for telephony apps like Skype and others
We have made the migration to Drupal easier like never before with the help of our migration estimate tool and skilled Drupal developers. Estimating from a time, resource, and monetary perspective before making the decision to migrate is crucial to your migration strategy. Here is a sample migration compatibility check report. Please speak with us for any Drupal query at [email protected]. We are here to help.