Why Should You Build Your Next Travel Website on Drupal?
To increase your customer base and retain your clients, as a tour-and-travel agency, you need to offer premium quality services, compact in your website. With new and varied challenges how do you plan to stay relevant? And most importantly how does Drupal help you from the market swamp?
You cannot deny the importance of online presence with many dedicating a lion's share into building a website to promote their property and services.    
Keeping your system safe while improving the overall user experience, Drupal also eliminates costly overheads and is helping travel-&-hospitality businesses tremendously.
7 Reasons To Opt for Drupal  
For a potential traveler, your site shouldn't look like just-another-information-brochure on the web.
Having a website is simply not enough especially when in the travel industry, where the competition is breaking the net. The need for an end-to-end solution to integrate all the minute details (from hotel booking to landing back) has never been greater.  
Booking Engine
The great thing about the Internet is that it can act as a point of equilibrium for both small and big enterprises.
Online booking engines provide an opportunity for small businesses to generate money easily. But how does Drupal help you with one?
Drupal provides two of the best booking solutions for your website:
EasyBooking - A distribution
BAT - A module
While BAT is the complete solution for your vacation website, it also allows you to build an exclusive booking engine for easy and direct online bookings. Its powerful online booking engine gets you infinite bookings for zero commission right from your hotel website.
Did You Know?
As many as 89 percents of all holidays are booked online
(ABTA, 2015)
Another module, EasyBooking, gives a set of options to your visitors to update themselves with special discount offers, room reservations, contact details of hotel administration through various features like contact form or newsletter. 
Before diving deep into how Drupal helps you with booking engine let us understand how a booking engine will help you boost your growth.
Regardless of whether yours is an online travel agency, or you are a traditional travel agent you cannot deny the importance of booking engines as it: 
Ensures your business lasts throughout the year. 
Enables you to get booking 24 hours every day.. [Chalk it up to the convenience factor, as well as the popularity of the internet, travelers love things which they can do at their own comfort.]
You have now cut out the middleman. Without the need to focus on the third services you were hiring, you now just focus on promoting your own business. 0% Commission, 100% Marketing.
 
Add a number of discounts, special offers, and change the rates according to the time of the year. All without the need to worry about anything or anyone.
BAT and EasyBooking offer a comprehensive solution to your booking website while taking various units into account. They provide you:
Pricing Calendar
Information page
Easy payment method
Drupal likewise also gives consistent combination with other booking engines to guarantee that your site guests can book quickly, lessening your dependence on different factors and individuals.
Theme
Your website needs to provide content that is relevant to each stage of the booking process, but more than that the presentation should entice the travelers to explore further. Themes, therefore, need to be in sync with the goals of your business. 
A study confirmed – that good graphics influence the purchase decision of the consumer. Using beautiful theming on your website and providing a more accurate depiction of your property you move the bar higher up.
Did You Know?
In countries like the United States and Canada, the average commission rate is about 15% (Rezdy, 2015)
As part of tour & travel business, your themes should be intricate and fun. A premium travel theme is supposed to be well structured and informative. There are many premium themes available to make your Drupal website better.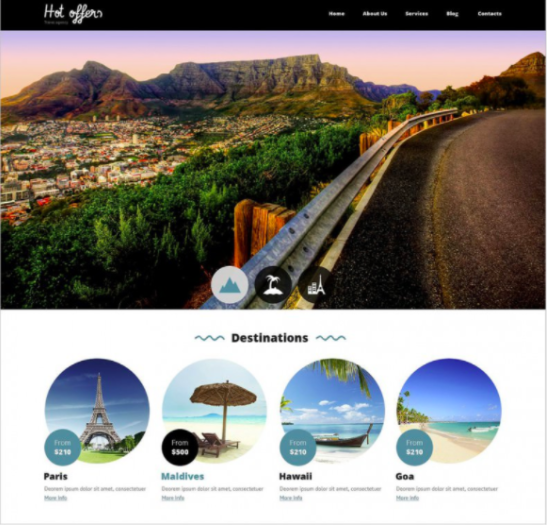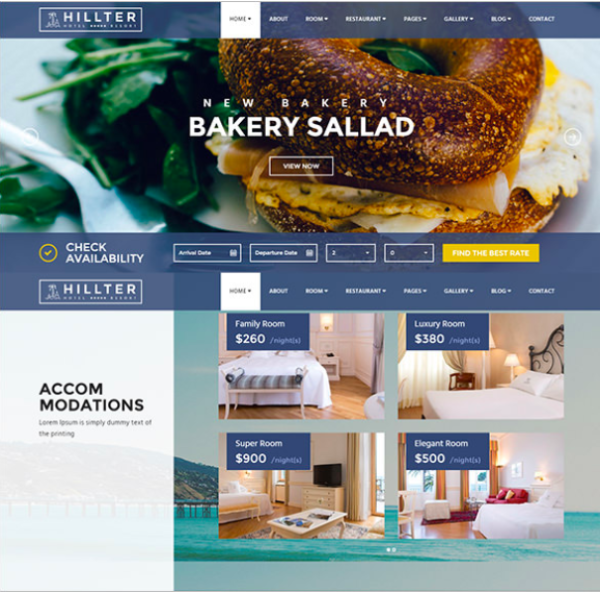 In Drupal, you are free to choose from a vast library of more than two thousand themes purpose-built for the travel industry and proven to increase conversion with their completely responsive designs. 
You can also use various themes incorporating Bootstrap features. Bootstrap themes can be easily integrated into your Drupal project regardless of your industry. 
Further, themes in Drupal are completely responsive, along with multiple layouts for helping to create multiple pages based on your contents.
Whether you have 1 or 1,000 content contributors, or you need to add the number of content (be it your blog posts, videos, images, or reviews) on your travel website, Drupal will never let you down. 
Scalability
The holiday season is all about enjoying one's time. But if you are in the travel industry the traffic spike might not be too sweet to handle. Even when you're delivering the greatest digital experience to your customers with all necessary features incorporated, it won't matter if your site gets hit with lots of traffic and goes down.
You need to make sure that your website can handle the traffic as smoothly as the services you provide. Drupal powers more than a million sites worldwide - incorporating various enterprises. 
Scalability means that, even on its busiest days, your site will perform spectacularly with Drupal.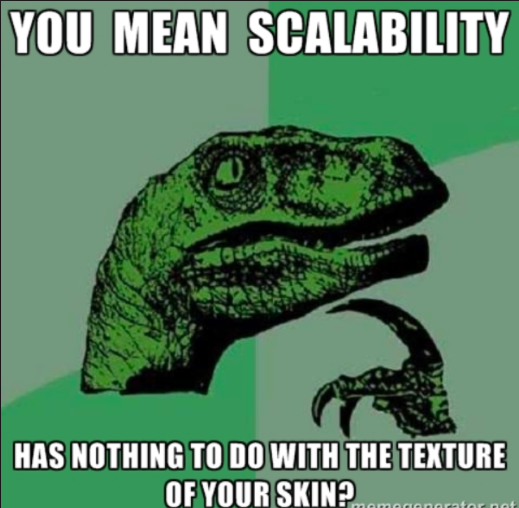 Whether you have 1 or 1,000 content contributors, or you need to add the number of content (be it your blog posts, videos, images, or reviews) on your travel website, Drupal will never let you down.
Easy navigation
Just as a traveler doesn't want to go on a trip and get lost in dense woods, your visitors don't want to visit your website and get puzzled between the menus and various buttons. 
The main purpose of your travel websites is to inform the travelers and encourage conversions. Whether it is through a virtual tour, various tabs, and buttons, or their placement. What matters is, where it leads your visitors to.  
The navigation must give your users viewing control on your website. To make this possible, you need to display – tour package collections, overviews, itineraries, highlights and various add-ons teasing the user's mind with the hint of the meat and let them explore more.
In Drupal, it is easy to list a day-wise tour plan for better management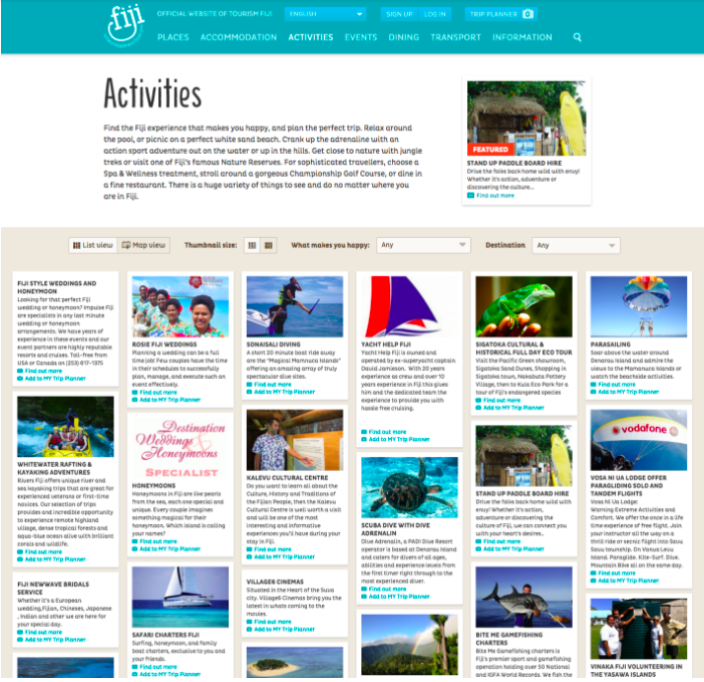 In Drupal, it is very easy to customize the blocks without prior coding. You can use this feature to highlight the various services and destinations you would want to sell. This can be used to administer multiple solutions and services such as flight, hotels, adventure sports, or any particular package which can enhance any particular service. 
Other than easy menu customization blocks, you can use taxonomy terms to define the tags and tabs including the Call-To-Action button which eventually will improve the visibility. 
Language
 
'Think Global, Act Local'
Your agency's ability to effectively communicate with a global audience goes hand-in-hand with its success in monetizing local markets. 
According to the Telegraph, out of the top five nationalities who are likely to travel overseas, none have English as the dominant first language. 

In the tourism industry, localities remain one of the pillars of strength. By inducing local and international language not only cultural barriers are broken but you are able to make your customers feel included and more comfortable, leading to better conversions. 
And when talking about the tourism industry probably this is the most monetizing factor in your control.
While the agencies that excel at multilingual feature are well-positioned to become the next generation of industry leaders, those who decline to offer in-language communications, or who do so inadequately, may risk limiting overseas business or losing it entirely.
Mobile responsive
The arrival of mobile technologies has marked a tectonic shift in user behavior and consumption of Internet and other related services. 
According to Trip Barometer almost 40% of all tour and activity bookings are made online, and on holiday, 24% of travelers use their smartphones for reading reviews, while 22% use their tablets.
Did You Know?
52% of all travel consumers are using mobile devices exclusively to conduct all online travel research? 
Providing advanced solution for mobile responsiveness, all Drupal modules and features are mobile responsive. Higher direct bookings eventually reduce your dependence on other travel agents for business. Drupal 8 is everything about mobile devices. You can include Drupal in crafting your responsive strategy, to creating a responsive design, to the delivery of a flawless product.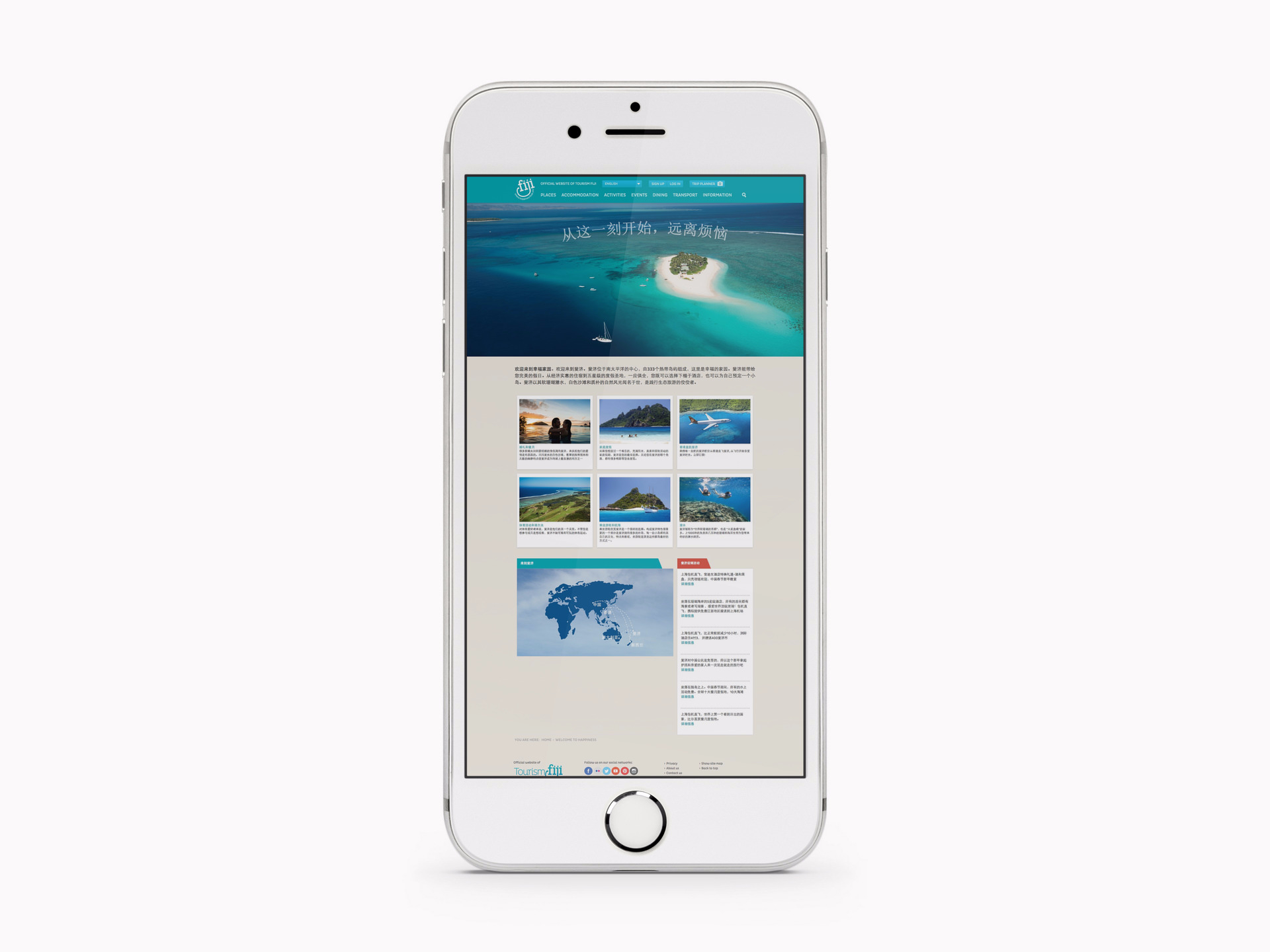 And when considering responsive design for your website, it isn't just about switching up font sizes and turning navigation into drop-down menus. It's a clever pairing between understanding user intent and aligning the needs with your marketing strategies.
The bespoke responsive design on your travel website is highly manageable via Drupal. Each component type – image, text, video, text carousel – can be designed to be fully responsive to across various mobile devices. 
For your travelers, context is extremely important. According to TravelTripper.com, as many 60% of mobile hotel bookings are made within 24 hours of a stay. Most travelers who access hotel websites through mobile tend to be last-minute bookers.
Responsive Image module, which is present in the core, can be enabled. It can be used to resize the image appropriately along with image styles.  That said, you can create attractive, engaging and responsive images and present the content in a visually impactful manner, while keeping brand consistency in the middle, on your Drupal website. 
Key advantages of using Drupal for mobile websites:
All themes and templates are user-friendly
It is simpler and easier to develop mobile apps using Drupal
Modules and themes in Drupal that helps create mobile websites.
Be it Arctica, Omega, or Adaptive theme, all themes in Drupal are mobile friendly and need lesser maintenance by deducting the hours needed for additional formatting. 
Marketing, SEO, and Social Media Modules
Just about half of the travel brands on Facebook found that their bookings increased because of their presence on the large social networking site (Digital Visitor).
As the user moves to validate their decision, reviews and user-generated content become more important. The need to bring marketing SEO and social media integration in the website brings forth the need for third-party (application) integration services.
To reduce the challenge in order to catch the attention of the user, you need to be highly connected with various platforms and convert the user into your client. 
Integrate with businesses so that you can handle your website as per your business needs. Drupal is a flexible platform which can integrate third-party applications according to your business processes including CRM and ERP systems. Payment integration modules also ensure that you receive the payment without redirecting your customer to any third website. 
But your third-party integration services should not limit to ERP or CRM systems, in Drupal.  Booking Softwares, accounting packages or messaging system it integrate well with everything available. 
When such integrations are possible, travel businesses benefit most from keeping the data centralized with a scalable system. .
Case Study- Fiji Tourism
Problems with Fiji Tourism website
One of the successful examples of how Drupal is can change travel business is Fiji Tourism's official website.
A country of 300+ islands, the previous website was an outdated and poorly coordinated collection of websites developed separately over the course of years. While maintenance was a problem, limited content-management functionality (for 333 Fiji islands) was a major challenge. 
This custom web content management solution didn't even work well on today's plethora of devices and much less helping the tourists and tourism of the country. 
How Drupal helped?
Series of pages were built and dedicated to common tourism categories with each page giving relevant accommodation and travel information. 
Interactive features like Trip Planner and Maps were added through third-party integration features. 
Each page further had a list of teasers for different options. Clicking on the teaser brings up a full listing page, with an expansive image, descriptive field, image gallery and embedded videos - all to attract and engage tourists.  
Further, because content management is easy in Drupal, the website and information is managed and moderated by Tourism Fiji before publication. And almost 500 operators self-manage their information online, from large organizations to small ones.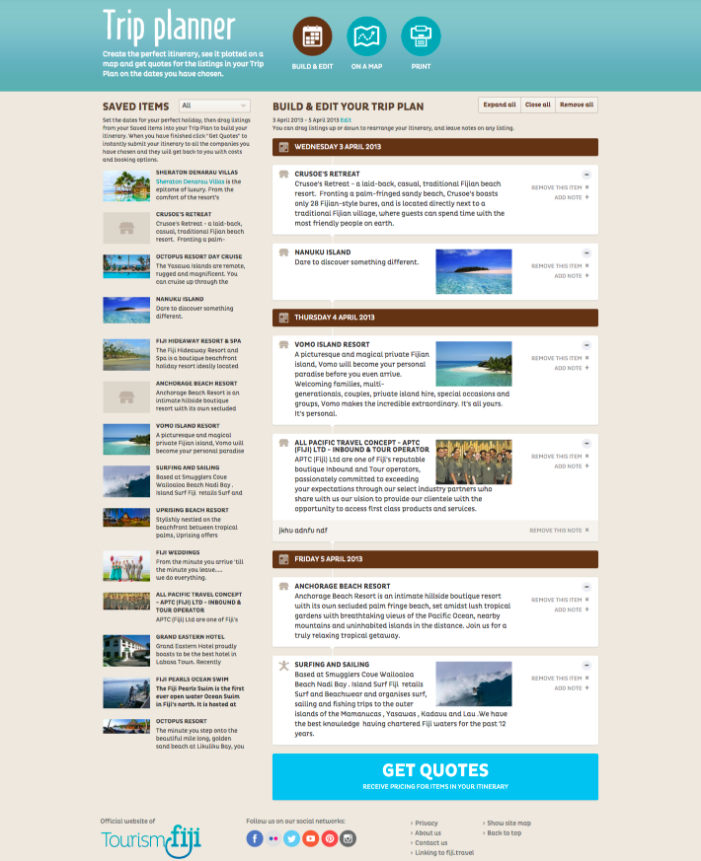 It also lets the industry operators see the live statistics of how their listing is performing. 
Because of its multilingual capability, Fiji maps speak a universal language, connecting the mobile first generation across the world. It also has a dynamic filter which can display various features like accommodation, activity, event, and dining options. 
Major Drupal Features:
Custom workflow makes it possible for 500+ operators to create and update the content. 
Responsive design that maximizes the visual impact of the Fiji experience.
Site translated into English, Chinese (simplified), and Chinese (traditional). And several more European languages.
The site automatically generates highly qualified sales leads for the industry.
The site delivers prices/quotes: users can make buying decisions right on the site.
Source: Drupal.com

| | |
| --- | --- |
| Month before launch (old sites) | Month after the launch of Fiji.travel on Drupal |
| 327,751 site visitors | 2,268,000 site visitors (+692%) |
| 453,000 sessions | 2,469,000 sessions (+545%) |
| 1,187,000 total page views | 2,942,000 total page views (+248%) |
Travelers want to skip through the extensive research and need a compact and comprehensive website with all the necessary information and features. Driving a rich customer experience with the help of Drupal, your travel websites will bring you better conversions. 
Eliminating the extra man-hours and removing the third-agency dependency, we bring you easy to use features and tools. Drop a mail at [email protected] and we will help you fly with Drupal
Akshita is a Senior Content & Marketing Associate at OpenSense Labs. A Hubspot certified Content Marketer, she likes to devour content related to SEO, open source technologies, and politics besides Drupal, of course. As a hobby, she trains young girls with TaeKwondo.

She is also a big Game of Thrones fan and quotes Tyrion atleast 5 times a day.